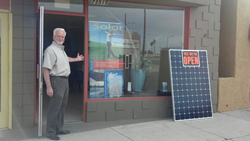 I love what I do and I love this town.
Murrieta, CA (PRWEB) March 25, 2014
Spearheading the endeavor is solar veteran and 29 Palms resident, John Wilson. "I love what I do and I love this town," said Wilson, Business Development Manager for Ambassador Energy. "My family has had a home here for decades. I served some of my time in the military here. And now I am back to help residents and business owners get financial relief from rising utility costs by going solar. As a US Military Veteran and a property owner of 29 Palms, I feel especially proud opening the newest Ambassador Energy office and bringing value to the community."
HERO is a branded version of Property Assessed Clean Energy [PACE]. This type of flexible, long-term financing allows for the entire purchase price of qualified improvements, such as Solar PV, to be repaid through the property's tax roll. "Buying solar this way has proven to be successful in Riverside County and other parts of California, and is now available in San Bernardino County," Wilson continued. "I think the name is appropriate, especially for our area, which is full of heroes!"
For solar customers who want other finance options, Ambassador Energy also offers purchases, loans and leases. "We strive to offer finance choices for our customers, not pigeon-hole them into a one-size-fits-all solar offering," said Kelly Smith, president of Ambassador Energy. "We also offer the opportunity for military veterans and civilian contractors to learn solar through our education arm, Ambassador Energy College, where we train students on everything from the basics, to solar sales, to advanced solar theory. We are really excited to have a presence in the high desert, especially with John Wilson leading the charge. His commitment to the area is a lovely thing to see."
Ambassador Energy of the Desert is located at 73515 Twenty Nine Palms Highway, 29 Palms, CA 92277.
About Ambassador Energy [AE] has a three-pronged business model, which includes Ambassador Energy College Solar Training, the Ambassador Energy Agency Program and the installation arms, Ambassador Energy and Ambassador Solar. On staff are NABCEP Certified PV Installers, NABCEP Certified PV Technical Sales professionals [Fulgham/Kelso] and multiple NABCEP EL graduates. AE holds California licenses General Contractor B, C10 Electrician and C46 Renewable Energy. Ambassador Energy is IREC/ISPQ accredited. AE Agencies are nationwide. Ambassador Energy installs residential and commercial PV systems throughout California and the US.