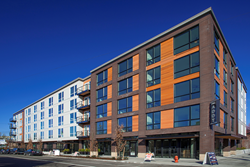 Portland, Oregon (PRWEB) March 25, 2014
The Addy Apartments, located at NW 18th and Northrup, is hosting a grand opening event Thursday, March 27th, from 4pm – 7pm. The event is open to the public and will feature refreshments and services from several neighborhood businesses like Footbar, McMenamin's, Sultan Café, TeSoAria Winery, LA Fitness, Sniff Dog Hotel, Noah's Arf and more. Additionally, local eastside restaurant Boke Bowl plans to open "Boke West" in the ground floor of The Addy later this spring. They will be providing menu samples at the event. Apartment tours will be available and staff will be on hand to accept applications.
The Addy is the first Portland development by the Seattle-based firm, Lake Union Partners. They are known for targeting local, homegrown entrepreneurs to their mixed-use developments.
Guardian Management LLC, a division of Guardian Real Estate Services LLC, is managing the operations, marketing and lease up of the building. The Addy received Certificate of Occupancy on 2/21/2014 and is currently 38% leased.
###
About The Addy:
The Addy offers a mix of studio, open one bedroom and two bedroom apartments. Located directly along the Portland Streetcar line, The Addy also enjoys a 94% WalkScore and is perfectly situated between the Pearl and the Alphabet District. Amenities include common area WiFi, resident lounge with full kitchen and community deck, pet and bike washing station, state-of-the-art bike storage room with repair station and controlled access parking is available. The apartments feature wood plank flooring, large floor to ceilings windows, stainless steel appliances and designer interior finishes. For leasing information please visit http://www.theaddyapts.com.
About Lake Union Partners:
Lake Union Partners is an urban real estate firm specializing in residential mixed-use and commercial projects in metropolitan markets throughout the Pacific Northwest. We are a team of experienced and creative developers who source, capitalize and build projects with design integrity and sensitivity to local markets. For more information visit our website at: http://www.lakeunionpartners.com.
About Guardian Real Estate Services:
Founded in 1971 with headquarters in Portland, Ore., Guardian Real Estate Services LLC is a privately held, vertically-integrated, real estate management, investment and development firm. Guardian's diverse real estate experience offers property owners and investors a valuable combination of market expertise and services. With over 900 employees in five states, Guardian's management portfolio consists of more than 12,500 multifamily units in 220 properties. The company owns approximately 25 percent of its portfolio. http://www.gres.com