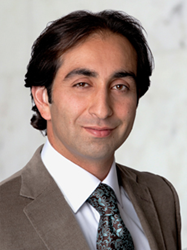 My goal is to help patients make full recoveries in a minimal amount of time, and with a minimal amount of stress.
Beverly Hills, CA (PRWEB) March 28, 2014
As Medical Director of the Salivary Stone Center of Excellence, Babak Larian, MD, FACS, been honored as among the nation's top doctors by Castle Connolly Medical Lmtd. Castle Connolly is widely known as a leading source for discovering and awarding the top medical doctors in the United States.
Castle Connolly has honored Dr. Larian for his stellar work in treating ear, nose, and throat diseases. The award is determined by an exhaustive review of ratings and reviews from both industry professionals and patients in the field of otolaryngology.
My focus has always been on patient-centered care," said Dr. Larian, "which is what makes this award from Castle Connolly so special. It really shows that we're making a difference in people's lives."
"My goal is to help patients make full recoveries in a minimal amount of time, and with a minimal amount of stress," said Dr. Larian. "Learning that my patients are satisfied with my work has been a truly moving experience."
Founded by John K. Castle and John J. Connolly, Castle Connolly Medical LTD. is dedicated to assisting people in the search for the best doctors in their area. Castle Connolly and its America's Top Doctors awards have been recognized by a variety of major news outlets, including "Good Morning America", "20/20", "48 Hours", and many more.
"Being given this award is one of the greatest honors in my career," said Dr. Larian. "I feel immensely proud of this recognition from patients and industry professionals alike."
Babak Larian, M.D. is a highly experienced ear, nose & throat specialist and head & neck surgeon in private practice and at La Peer Health Systems. He was Chief of Head & Neck Surgery at Cedars-Sinai Hospital in Los Angeles from January 1, 2012 to December 31, 2012 and was named to U.S. NEWS & WORLD REPORT's listing of Top Doctors in 2012.
Dr. Larian has extensive experience in treating diseases in the head and neck area including allergies and sinus issues, nasal obstructions, thyroid tumors, parathyroid disorders, and parotid tumors. He obtained his medical degree at UC Irvine School of Medicine, where he graduated with academic and humanitarian distinction. In 2002, he completed a 6-year residency program at UCLA in Ear, Nose, & Throat (otolaryngology), and Head & Neck Surgery.
La Peer Health Systems is an outpatient surgery center in Beverly Hills, founded by doctors and focused on providing excellent patient care alongside the most cutting-edge medical treatments available. With 50 world-renowned physicians in 14 specialties, comprehensive medical treatment is offered that takes patients from consultation to diagnosis, treatment, surgery, and ultimately aftercare. The 14 medical departments include orthopedics & sports medicine, gastroenterology, head & neck surgery, colorectal & general surgery, podiatry, ophthalmology, pain management, plastics & reconstructive surgery, gynecology, spine surgery, interventional cardiology, bariatric surgery, thoracic surgery, and anesthesiology. Unlike large hospitals, La Peer's unique structure offers extremely personal care in a safe and controlled environment.
To learn more about La Peer Health Systems, visit http://www.lapeerhealth.com.