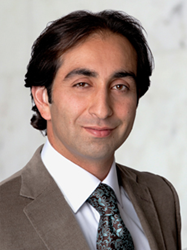 Cell phone use has not been conclusively linked to brain tumors or tumors in any other area on the head.
Beverly Hills, CA (PRWEB) March 26, 2014
Dr. Babak Larian, Director of the CENTER for Advanced Parotid Surgery in Beverly Hills, today commented on research that suggests areas that come in contact with our cell phones are more susceptible to tumors and cancer. Since cell phones produce electromagnetic fields of non-ionizing radiation, the principal concern is injury to DNA in cells in areas that frequently come in contact with our cell phones, such as our ears and faces. It is possible that there has not been enough time to assess the long term effects of the newer "smartphones" technologies.
"Cell phone use has not been conclusively linked to brain tumors or tumors in any other area on the head," Dr. Larian said. "However, cell phone users should be informed about the radiation that cell phones transmit. If you hold a cell phone up to your ear, the radiation does come in direct contact with your parotid glands."
Parotid gland tumors are only cancerous about 20% of the time, but if a patient finds a mass in his or her parotid gland—the most common place for salivary gland tumors—an expert evaluation is needed. A fine-needle biopsy should be utilized to see if the mass is cancerous. Even if a tumor is benign, it needs immediate attention for a number of reasons.
"Benign parotid tumors tend to grow and as they get larger they may push on the surrounding tissues or wrap around them," Dr. Larian explained. "If the facial nerve is next to the tumor, the tumor may press on it or it may be engulfed by tumor, making surgery more difficult."
Fortunately, there are many benefits of minimally invasive parotidectomy (also known as micro-parotidectomy), which removes parotid tumors will an incision much smaller than standard procedures. Patients have less visible scars, reduced pain, and a shorter recovery time. In addition, protection of the facial nerve is a top priority during the surgery.
"One of the main concerns associated with facial surgery is the facial nerve," Dr. Larian stated. "My team approach to parotid surgery ensures that the facial nerve is monitored by facial paralysis expert Dr. Babak Azizzadeh. He is also a top facial plastic surgeon, who ensures that facial symmetry is preserved and that there is minimal scarring. If parotid gland tumors become more common due to cell phone use, micro-parotidectomy is revolutionary way to remove them."
World-renowned parotid gland surgeon, Babak Larian, MD, FACS, graduated with honors and distinction from U.C. Irvine School of Medicine and has completed a six-year residency program in Otolaryngology and Head & Neck Surgery at the world renowned UCLA medical Center. As the Director of the Center for Advanced Parotid Surgery in Los Angeles, Dr. Larian and his team of experts are responsible for the performance of cutting-edge minimally invasive salivary gland surgeries. Dr. Larian aims to provide his patients with the best possible care and surgical outcomes 100% of the time.
For more information about Dr. Larian and the Center for Advanced Parotid Surgery, please contact his office today by calling (310) 461-0300, or visit the expert parotid surgeon on the web.