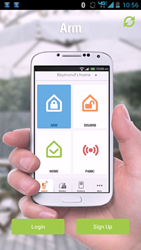 The game is changing – It is not just about security anymore. It is all about home control, comfort, and connectivity.
Sunnyvale, CA (PRWEB) March 27, 2014
iSmart Alarm, Inc is aiming to revolutionize the home security market, again. For 2014, the company is developing and offering new devices to expand on the iSmartAlarm Home Security System, such as the Doorfront™ front door security solution, Smart Switch outlet controls, glass breakage sensors, satellite sirens, an updated version of the streaming iCamera™, security yard signs, and more.
Launching in 2013, the iSmartAlarm Home Security System is the company's flagship product, a self-monitored, self-controlled home security system with no monthly fees and no contracts, emphasizing a 21st century spin on traditional security systems. The iSmartAlarm Home Security System is sleek, expandable, and completely DIY, with no wiring necessary.
iSmart Alarm Inc will be exhibiting these new products at the ISC (International Security Conference) West show in Las Vegas April 2-4 in booth 34064. Held annually in the Sands Expo, the show is the largest security show in North America, focusing on access controls, alarms, home monitoring, high and low-tech security, and the latest in digital and physical protection in the modern world.
With the iSmartAlarm Doorfront™, users can remotely monitor entryway activity, know immediately if there are deliveries, and be alerted to suspicious activity. The Doorfront™ is the first device to seamlessly integrate motion detection, a high-resolution controllable camera, doorbell, and intercom functionalities in an easy-to-use device. The iSmartAlarm Doorfront™ provides a wide view of activity and notifies a user via their Android or iOS device if there is motion in range or if someone rings the doorbell. The user can then see who is at the door and directly communicate with the visitor, view activity through the live streaming video and automatically or manually take snapshots of action and people.
With the iSmartAlarm Smart Switch, users can remotely control electrical outlets, see when their lighting is turned on or off, ensure potentially dangerous appliances are turned off when not in use, and monitor energy usage. Automated schedules can be established to secure the home, to create the impression of a family at home, and provide physical safety so the user will never have to walk into a dark home again. Multiple Smart Switches can be in use at the same time, and can cross-communicate with other devices in the smarthome ecosystem to automatically turn on lights or machines in case of a break-in.
"Along with our new App updates, we've focused our attentions on a combination of what our customers want and what our customers need. The upcoming free Android and Apple updates will focus on giving our users more customization capabilities to match their lifestyles," said Raymond Meng, co-founder and CEO, iSmart Alarm. "Our new devices will widen the range of controllability in the home, and ultimately give users peace of mind when they are home or away. The game is changing – It is not just about security anymore. It is about home control, comfort, and connectivity."
The new iSmartAlarm devices all compliment iSmart Alarm's line of existing home control, home security, and home automation products. These products are all part of the iSmartAlarm home control ecosystem, offering users a new level of control and connectivity within their homes. With iSmartAlarm, the ability to monitor, manage, and secure your home, property and family using your iPhone or Android devices has gotten even better.
Visit iSmart Alarm, Inc at booth 34064 at the ISC West show April 2-4 at the Sands Expo in Las Vegas for the latest in devices and app updates.
For more information on the iSmartAlarm ecosystem, Doorfront™, Smart Switch, and current and future iSmart Alarm offerings, visit http://www.ismartalarm.com. Pre-sale for new devices will begin in Q2.
iSmart Alarm Social Media:
Twitter: http://www.twitter.com/iSmartAlarm
Facebook: http://www.facebook.com/iSmartAlarmInc
YouTube: https://www.youtube.com/user/iSmartAlarminc
About iSmart Alarm, Inc.
iSmart Alarm, Inc. was founded in Silicon Valley in 2012 on the principles of safety, beauty, and intelligence. They designed and developed the best smartphone-enabled home security and home control system. The sleek, sophisticated system allows users to be in complete control of their home and safety with their Apple and Android devices. iSmartAlarm products are cool, simple to use, and affordable to everyone.