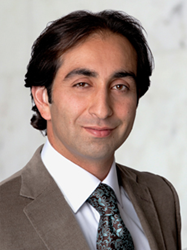 The four parathyroid glands are located in the neck, just behind or next to the thyroid.
Beverly Hills, CA (PRWEB) March 26, 2014
Calcium levels are critical for good health, so today expert parathyroid surgeon, Dr. Babak Larian of the CENTER for Advanced Parathyroid Surgery in Beverly Hills, commented on the connection between parathyroid hormone levels and calcium levels in the body. The parathyroid glands are part of the endocrine system that balances hormones in the body. They regulate calcium levels in the body so that all cells can function properly.
"The four parathyroid glands are located in the neck, just behind or next to the thyroid," Dr. Larian said. "Hyperparathyroidism, caused by an overactive parathyroid gland, will make too much parathyroid hormone and cause a potentially serious calcium imbalance. The condition may also lead to osteoporosis."
Every cell in the body uses calcium to communicate with different parts of the cell inside itself. All of the nerves in the body use calcium to send information and commands to the next nerve, muscle, or organ. This is why calcium imbalance can cause so many neurologic symptoms, such as tiredness, anxiety, depression, poor sleep, and poor concentration. Muscles also use calcium to flex; calcium imbalance may cause muscles to cramp or weaken.
"The most common cause of hyperparathyroidism is the development of a benign tumor in one of the parathyroid glands," Dr. Larian explained. "This enlargement of a parathyroid gland is called a parathyroid adenoma, and it accounts for roughly 90% of all patients with hyperparathyroidism symptoms."
Diagnosing a parathyroid tumor is often a challenging process because the symptoms of hyperparathyroidism may resemble other conditions or medical problems simply because they are common problems. Symptoms of a parathyroid tumor include aches and pains in the bones, kidney problems, nausea, abdominal pain, vomiting, fatigue, excessive urination, depression, and muscle weakness. If someone is experiencing these symptoms, a number of tests help determine if a parathyroid adenoma is present. A doctor should perform a blood test for parathyroid hormone, calcium, and vitamin D levels. A parathyroid expert can then utilize a sestamibi scan to help locate the exact parathyroid gland that is abnormal.
"Minimally invasive parathyroidectomy provides so many benefits to patients who need to have a parathyroid adenoma removed," Dr. Larian said. "It has a very high cure rate, and if the adenoma is the only cause of the parathyroid abnormality, calcium levels in the body should return to normal almost immediately."
Dr. Babak Larian, the Director of the CENTER for Advanced Parathyroid Surgery in Beverly Hills, is a highly experienced and reputable board-certified head and neck surgeon. Dr. Larian is nationally renowned for his expertise in minimally invasive surgery techniques involving parathyroid disorders and is considered a pioneer in his field. Currently, Dr. Larian holds the prestigious honor of Chief of Head & Neck Surgery at Cedars-Sinai Medical Center and Assistant Clinical Professor of Surgery at UCLA.
For additional information regarding Dr. Larian and the various services offered at the CENTER for Advanced Parathyroid surgery, please call 310-461-0300, or visit the expert parathyroid surgeon on the web.