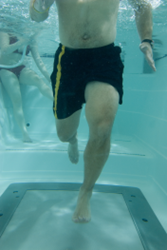 When running drills are applied in an underwater atmosphere, the athlete is at less risk of becoming harmed from the natural stressors of land-based running drills.
Middletown, PA (PRWEB) March 25, 2014
Running drills may not seem like the most glamorous activities to recreational and professional athletes; however, they have been proven to ratchet up the speed, endurance and overall performance capabilities of men and women. Yet from a purely mechanical perspective, land-based running drills can cause an athlete to be more susceptible to repetitive injuries such as stress fractures, muscle strains and sprains, and even (in rarer cases) broken bones. One solution to this problem for coaches and their charges is to promote running drills in a pool equipped with an underwater treadmill.
When running drills are applied in an aquatic environment, the athlete is at less risk of becoming harmed from the natural stressors of land-based running drills. At the same time, scientific evidence from research studies conducted at some of the nation's top educational institutions has shown that an athlete who complements land-based running drills with underwater-based ones will not decrease his or her performance. In fact, athletes who train underwater in specially-designed therapy pools have the opportunity to work additional muscle groups because the forces they are working against are different than those experienced on the track.
On Thursday, March 27, 2014, from 3:00-4:00 p.m. EDT, Anthony Testa, Med, ATC, CSCS, Director of Sports Medicine at Seton Hall University will offer a live webcast from his facility's HydroWorx 500 Series therapy pool and HydroWorx Plunge pools to unveil some of his personal "best practices" for helping athletes using this advanced training methodology. The live webcast, "Progression of Running Drills Using the Underwater Treadmill", is free to attend.
During "Progression of Running Drills Using the Underwater Treadmill", Testa will explore warm-up/cool down exercises, drills for general running mechanics, linear speed training, change-of-direction drills, use of video analysis and training protocols. Each attendee will leave the webcast with a more thorough understanding of:

How to best use the drills and progressions Testa prefers for his athletes at Seton Hall University.
How training speed and agility can be increased by running underwater.
How to plan a complete progression cycle for any athlete.
"Progression of Running Drills Using the Underwater Treadmill" is ideal for professionals working with athletes, or for those who want to know more about therapy pools and plunge pools. Registration can be made at http://ww2.hydroworx.com/webcast-testa. For those near South Orange, NJ, the event can be attended in-person by contacting Michele Reber at mreber(at)hydroworx(dot)com. Live attendees will have the opportunity to try out the HydroWorx 500 Series pool, as well as the ThermalPlunge and PolarPlunge pools. Make sure you bring your bathing suit and towel!
About the Presenter
Anthony Testa joined the Seton Hall University athletics department in October of 2009 as Director of Sports Medicine. He coordinates and provides medical services for all student-athletes and works directly with the Men's Basketball and Baseball teams. He previously worked at Columbia University and Northeastern University, where he served as an assistant athletic trainer, and St. Peter's College, where he was the Director of Sports Medicine and Strength and Conditioning.
A graduate of Southern Connecticut State University, Testa earned his master's in sports administration from Temple in 2002 while working as a graduate assistant strength and conditioning coach. He has served as USA Weightlifting's athletic trainer and as an adjunct professor at Seton Hall in the School of Health and Medical Sciences.
About HydroWorx
HydroWorx, based in Middletown, Pennsylvania, offers a wide range of underwater treadmill therapy pools, and peripheral products and services. Every day, more than 23,000 athletes and patients use HydroWorx technology to recover from injuries and health conditions.
More information about HydroWorx's upcoming webinars, as well as archived webcasts from previous events, can be found by visiting http://www.hydroworx.com/research-education/webinar_webcasts.aspx.
# # #