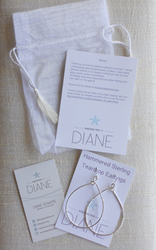 These Sterling Teardrop Hoop Earrings are my "island classic." Clean, simple lines and a bit of texture make them an everyday favorite with customers.
Lahaina, Maui, HI (PRWEB) March 26, 2014
Maui-based Designs by Diane (http://www.designsbydiane.info) will have its individually handcrafted Hammered Sterling Silver Teardrop Hoop Earrings included in The Artisan Group® Press Bags at GBK's Luxury Gift Lounge in Honor of the MTV Movie Awards Nominees & Presenters. The Gift Lounge takes place April 11-12, 2014 at an exclusive venue in Beverly Hills.
Diane Sowers, the designer and maker behind Designs by Diane, says she decided to gift these versatile earrings, which feature her signature hammered texture and clean, simple lines, because they are a perennial favorite with her customers in Maui and around the world.
"I have many customers with different tastes," noted Diane. "Most of them also own a pair of these earrings. I make this design in a variety of sizes but the gifted 3" x 2" version is the most popular."
The Hammered Sterling Silver Teardrop Hoop Earrings are part of the Hammered Silver Collection and retail for $52.00. They are available online at designsbydiane.info.
Diane designs and creates out of her jewelry studio on the beautiful island of Maui, where she is recognized for her island-inspired designs, including her contemporary sea glass jewelry and her "Maui" hammered fine silver necklaces and bracelets. She is working on a new line featuring sterling silver, leather and pearls.
Sargent's Fine Jewelry, located on the beautiful island of Maui, includes Designs by Diane in their repertoire of local jewelry designers whose work they define as "strikingly original and unique." Sargent's has selected Diane as their featured designer several times; on April 11 she showcases her new Leather Collection at Sargent's Lahaina store from 6:00-9:00pm, as part of Lahaina's 2nd Friday celebration.
Designs by Diane jewelry has been seen in the movie "The Descendants" and purchased for gifting to Cybill Shepherd. Designs by Diane has had its jewelry considered for use on the popular television shows "Hart of Dixie" and "The Bachelorette" and will be participating in a special celebrity gifting event sponsored by The Artisan Group for 2014 Earth Day.
To learn more about Designs by Diane, contact Diane Sowers by email or visit http://www.designsbydiane.info. Become a fan on Facebook (designsbydianemaui), Twitter (@SowersDiane) and Pinterest (diMaui). For press inquiries regarding The Artisan Group, visit theartisangroup.org.
ABOUT DESIGNS BY DIANE
Designs by Diane (http://www.designsbydiane.info) is located on the beautiful island of Maui and is owned and operated by the designer herself. Diane makes all her beautiful island inspired designs using sterling silver and/or 14k gold fill components.
Diane started out making sea glass jewelry from sea glass she had collected on the beaches of Maui. All sea glass used in her designs is as it came from the ocean. The pieces are not altered. Diane's work continues to evolve as she discovers new techniques and materials. She now incorporates pearls, shells and gemstones in her designs. Also popular is Diane's "Pure Handmade Silver" collection.