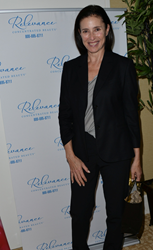 (PRWEB) March 26, 2014
Breaking new ground in skin care, Relevance seamlessly weaves together the advances of science with the most superior naturally sourced ingredients to yield a collection of effortless but effective products that produce amazing results with almost all skin types.
After suffering the effects cancer treatments had taken on her skin, Glacier Labs, Inc. President, and Relevance founder Susan Nickell developed these products in collaboration with a team of skin care professionals— including an expert chemist and pharmaceutical-grade laboratory—whose careers boast the launch of some of the world's finest skin care lines.
Making their debut at a pre-Oscar luxury event in Beverly Hills last month is just the red carpet reception Nickell believes her products deserve, "I know we have an exceptional skin care collection so participation in an event of this caliber is absolutely fitting.", she said.
Relevance is infused with complexes full of antioxidants and anti-inflammatories that utilize revolutionary delivery systems to ensure products work from the deepest layers of the skin to revitalize, rejuvenate and protect your skin's natural components while giving you a flawless more youthful complexion.
Relevance currently has distribution test sites reporting successful product sampling and client re-order ratios. For more information on Relevance, please contact us at 800-695-8711.