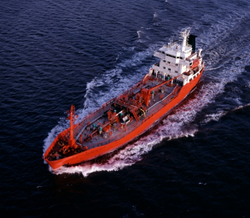 Incidents like this can have a huge impact not just on the marine environment but also on the local and even national economy.
Texas City, TX (PRWEB) March 26, 2014
An estimated 160,000 gallons of heavy oil spilled into Galveston Bay on Saturday after a barge and ship collided near the Texas City Dike in what maritime attorneys from Schechter, McElwee, Shaffer & Harris say is a serious environmental accident.
The collision occurred about 12:30 p.m., where the Intracoastal Waterway and Houston Ship Channel intersect, according to the Houston Chronicle. Two crewmembers from the tug pulling the barge were treated for fume exposure. No other injuries were reported.
The barge, owned by Houston-based Kirby Inland Marine Corp., was carrying approximately 924,000 gallons of bunker fuel, which is a heavy crude oil also known as bottom of the barrel oil. CBS reported that the barge's remaining fuel cargo was cleared out of the vessel by Sunday, removing the risk of further polluting the waterway.
CBS also noted that the dike and surrounding areas were evacuated, ferry operations were suspended between Galveston and Port Bolivar, the Houston Ship Channel was closed, and traffic to the Texas City and Galveston ports was suspended. Limited ferry service had resumed by Tuesday morning.
"Incidents like this can have a huge impact not just on the marine environment but also on the local and even national economy," maritime attorney Matthew Shaffer said. "We saw this prominently with the Deepwater Horizon explosion."
In Texas City, business ground to a halt as the cleanup continued, according to KHOU News reports. Fishermen were unable to haul in catches, bait and tackle shops were quiet, and seafood restaurants saw slower business. In Galveston, cruise ship traffic was also halted, with passengers waiting to set sail and no word on when ships would be allowed to depart again.
As a maritime law firm, Schechter, McElwee, Shaffer & Harris has handled numerous cases related to maritime and refinery disasters, including many cases against Kirby Inland Marine Corp. as well as cases relating to the Deepwater Horizon explosion, the New York City Bouchard barge explosion, the BP Texas City refinery explosion and the 1989 Phillips 66 explosion.
"The cargo handled by barge traffic is often hazardous to the health of the barge workers," Shaffer said. "This incident should serve as a reminder of the dangerous work the men and women of our Merchant Marine perform each and every day."
According to the CBS report, more than 60,000 feet of containment boom was deployed to protect environmentally sensitive areas, and skimming vessels were working on scooping up oil. Black tar-like globs were reportedly seen along the shoreline of the Texas City Dike, and there were unspecified reports of wildlife damage. Air monitors in the area are also closely watching for any elevated levels of dangerous gases; none had been detected.
Since 1964, Schechter, McElwee, Shaffer & Harris has handled thousands of barge and marine accidents, including injuries from exposure to hazardous cargoes. The firm's maritime attorneys have collected hundreds of millions of dollars on behalf of their clients.
They have also helps victims of many other personal injury accidents, including refinery and chemical plant accidents, construction site accidents, car and truck accidents, bicycle and pedestrian accidents and more.
The Houston-based law firm has more than 45 years of experience in representing clients worldwide and draws on a combined 100 years of trial experience to help injury victims get the compensation they're entitled to. SMSH can provide legal assistance in both English and Spanish (Español).
If you have been impacted by the recent disaster in Texas City, contact a maritime attorney at Schechter, McElwee, Shaffer & Harris today to schedule a free consultation and go over any potential case. Call 800-282-2122 today to learn more and get help winning your claim.