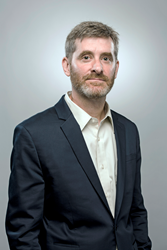 I look forward to being an integral part of our continued advancement to distinguish ourselves as the preeminent art and design college focused on creativity, innovation and social responsibility
New York, NY (PRWEB) March 25, 2014
Ringling College of Art and Design today announced that Jeff Bellantoni has been appointed Vice President for Academic Affairs for Ringling College after a nationwide search conducted by Shelli Herman and Associates.
An author, educator and award-winning graphic designer with over 20 years in higher education, Mr. Bellantoni joins the Ringling College leadership team from Pratt Institute in New York City, where he served as Chairperson and Professor of the nationally-ranked Graduate Communications Design Department since 2008 and as a faculty trustee on Pratt's Board of Trustees. He was responsible for several initiatives including Pratt Press, Public Project, the Graduate Design Guild, and the first design-focused MFA program at Pratt. In addition to these roles, Jeff acted as Governance Facilitator for the Institute for two years and Special Assistant to the Dean of Art and Design for three years.
"We are pleased to add Jeff to our creative community," said Ringling College of Art and Design president Dr. Larry R. Thompson. "Jeff's well-rounded background and experience as a designer and educator is the perfect fit to help us continue to innovate and enhance our academic program for the next decade and beyond. With over two decades in higher education as a faculty member and academic administrator at major research universities, a liberal arts college, and several professional art and design colleges, Jeff has mastered skill sets that will be integral to Ringling College's ongoing curriculum development, accreditation and governance. We are excited to work with Jeff to evolve our academic vision at both the undergraduate and graduate levels. Please join with us in welcoming Jeff and his wife, ceramist Kim Westad, to Sarasota."
"It is a privilege to join Ringling College, one of the most innovative arts colleges in the world, and one that continuously strives for excellence," said Mr. Bellantoni. "Ringling College's record of achievement during the past decade under President Thompson's leadership, along with the consistent drive to challenge itself, makes for a tremendous opportunity of continued transformational growth. Ringling's studio teaching model nurtures innovation—students learn to approach problems from unique perspectives and develop the flexible thinking and comfort with risk that is needed in today's complex and dynamic world. I look forward to being an integral part of our continued advancement to distinguish ourselves as the preeminent art and design college focused on creativity, innovation and social responsibility."
Prior to Pratt, Jeff held various positions with Mercy College in the Division of Civic and Cultural Studies as Associate Professor, Division Chair, and Founding Program Director for Computer Arts + Design, during which time he raised funds and oversaw the building of The Roy E. Disney Center for Animation Studies and The Center for Digital Arts. He has also taught at the University of Connecticut in the School of Fine Arts, Wanganui Polytechnic School of Art & Design in Wanganui, New Zealand, and Virginia Commonwealth University School of the Arts (VCU), in Richmond, Virginia. He has published as co-author and designer several books including the best-selling titles "Type in Motion" and "Moving Type, Designing for Time and Space", is an accreditation evaluator for the National Association of Schools of Art and Design (NASAD), and presents at conferences, events and educational institutions around the world. Jeff received his MFA in Visual Communications from VCU and BFA from the University of Tennessee at Chattanooga.
The Ringling College search committee was chaired by Christine DeGeorge and included members Bradley Battersby, Jeffrey Bleitz, Doug Chismar, Jim Dean, Jim McCampbell, Lisa Moody, Mahmoud Pegah, Jeff Schwartz, Nathan Skiles, Tracy Wagner, and Tammy Walsh.
Dr. Thompson concluded, "I would also like to extend a very special recognition to David Jackson, who has selflessly served as Interim Vice President for Academic Affairs since June 1, 2013 and will remain in this capacity until Jeff's arrival this summer."
About Ringling College of Art and Design
Ringling College of Art and Design is a private, not-for-profit, fully accredited college offering the Bachelor's degree in 14 disciplines: Advertising Design, Business of Art & Design, Computer Animation, Digital Filmmaking, Fine Arts, Game Art & Design, Graphic Design, Illustration, Interior Design, Motion Design, Painting, Photography & Digital Imaging, Printmaking, and Sculpture. Located in Sarasota on Florida's Gulf Coast, the picturesque 48-acre campus now includes more than 110 buildings, and enrolls 1,368 students from 44 states and 53 countries. It is recognized as being among the best and most innovative visual arts colleges in the United States as well as a leader in the use of technology in the arts. http://www.ringling.edu