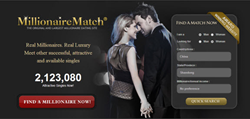 Los Angeles (PRWEB) March 29, 2014
Many think millionaires have got it made in the shade and don't need the same inspiration and guidance that others do. Think again. MillionaireMatch rated quotes from the world's billionaires to see three great features that attribute to their success.
1. Focus on your own belief, in the other words, be stubborn. This theme ranked number one with 32.31% of members voting for it.
"I just love it when people say I can't do it, there's nothing that makes me feel better because all my life, people have said that I wasn't going to make it. "

Ted Turner, Founder of CNN
"When you live for others' opinions, you are dead."

Carlos Slim Helu, CEO of Telmex, América Móvil, Grupo Carso
"Your time is limited, so don't waste it living someone else's life."
Steve Jobs - Founder, Chairman & CEO, Apple Inc, and Pixar Animation Studios
2. Be full of the discovery and adventurous spirit. The members voted this as their second favorite theme with 26.35% liking it.
"The secret of business is to know something that nobody else knows."

Aristotle Onassis, Greek Shipping Magnate
"We're going where no one has gone before. There's no model to follow, nothing to copy. That is what makes this so exciting."

Richard Branson, Chairman of Virgin Group
"When you've got 10,000 people trying to do the same thing, why would you want to be number 10,001?"

Mark Cuban - Entrepreneur, Owner 2929 Entertainment, Landmark Theaters, Chairman AXS TV
3. Be positive. Thought it ranked number three this is very important for success. Of the members 21.76% approved it.
"What other people label or might try to call failure, I have learned is just God's way of pointing you in a new direction"

Oprah Winfrey, Talk Show Host, Producer & Philanthropist
"Each day - even the day that I knew I was going to be fired - I looked forward to because I've always believed that tomorrow was going to be the best day of my life."

Michael Bloomberg - Politician, Mayor, Founder, Bloomberg L.P.
"Try to turn every disaster into an opportunity."

John D. Rockefeller - Philanthropist, Founder, Standard Oil