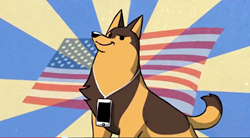 (PRWEB) March 25, 2014
President Obama's trusted dog advisors, Bo and Sunny, join up with Michael, Maggie and Governor Jerry Brown's renown dog lobbyist Sutter to propose a whimsical and hilarious new "essential health benefit" to Obamacare (the Affordable Care Act or ACA), while describing the many benefits of the Affordable Care Act and adopting a pet. After a million dog march in Washington, D.C., Congress agrees that dogs are an "essential health benefit".
Revenge Is… A World That Cares. Revenge Is… designs and produces eco-friendly fashion t-shirts and other casual apparel for the socially conscious consumer.
For more information, contact Marilyn Barrett, 310-441-2500 or Marilyn(at)revengeis(dot)com.
http://www.revengeis.com
https://www.facebook.com/revengeis
Revenge Is… is "the best of both worlds–fashionable yet incredibly comfortable and geared toward raising awareness about various social issues": The Green Stylist
Revenge Is… is "committed to giving back…while looking fashionable and fabulous at the same time. The collection quickly attracted the attention of the young fashionable set in Hollywood with actresses such as Neve Campbell, Chelsie Hightower, Janina Gavankar, and Aly Michalka among others, all being fans of the line." - Fashion Manuscript
"Sometimes, fashion really does make a statement. When you wear a t-shirt from Revenge Is… the statement you make is that it's possible to by stylish and Eco-conscious at the same time." - The Green Connoisseur
"Making activism fashionable, Revenge Is has created the 'All Love Is Equal' tees… [T]line means to spread the gay-friendly message that all people should have the right to marry… and look hot while saying it." - Dallas Voice