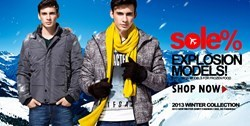 (PRWEB) March 27, 2014
Skmen.com is a professional company of women's and men's high quality clothes. Recently, the company has announced its big discounts on mini dresses, up to 32% off. According to the development manager for the company, these cheap mini dresses will be available until April 15, 2014.
"We are happy to launch the special offer; we want to make our mini outfits more popular in the international market. They are well manufactured by our skilled workers. What's more, our extensive collection of mini outfits comes with affordable prices, so worldwide chic ladies can save a barrel of money now. As we all know, a fashionable mini outfit is a must for those who are eager to look fabulous and shine among the crowd. So, I think our products will sell well," he says proudly.
It is worthy to mention that Skmen.com is a long established company offering thousands of trendy items. Created and operated by experienced specialists from the fashion industry, it is able to create almost all kinds of comfortable to wear clothes.
Customers who are looking for inexpensive and trendy clothes can also get useful fashion information at the company's online store. Its top designers are always ready to help clients to make the most efficient shopping decision.
About Skmen.com
Skmen.com, a China-based company founded in 2009, is one of the leading suppliers of men's and women's high quality clothes. It has more than 5000 customers from every part of the world; it hopes to help worldwide stylish ladies and gentlemen. For more detailed information about the company and its wonderful items, readers can visit http://www.skmen.com/product-mini-dresses-003004003.aspx.