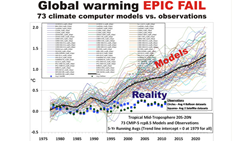 One has to question the credibility of these global organizations that put billions of taxpayers' dollars at risk, but contradict each other's findings and historical fact
Calgary, Alberta, Canada (PRWEB) March 25, 2014
As reported by the Herald Sun on October 5, 2013, the UN's Intergovernmental Panel on Climate Change (IPCC) issued the AR5 report stating that there is low confidence of any trend in hurricanes, droughts or floods on a global scale, and low confidence of any change in the first half of the 21st century, but this week, in a confusing turn of events, the Calgary Herald reported on March 24, 2014 that the UN's World Meteorological Organization (WMO) has issued statements claiming that extreme weather events of the past year are linked to human-induced climate change.
There is significant evidence that this is not the case. The number of strong to violent tornadoes in the USA has declined significantly since 1970, and the global hurricane energy has declined by 38% since 1998.
"It is a comedy of errors to have one United Nations body directly contradicting the findings of the other - and contradicting historical evidence as well," says Ken Gregory, research director for Friends of Science.
The WMO statements claim that Australia's drought would have been 'virtually impossible' without emissions of "heat-trapping carbon dioxide" are rendered invalid by historical evidence of recurrent droughts in Australia throughout human history, due to the El Nino Southern Oscillation (ENSO) as documented by paleoclimate expert Brian Fagan in his book "The Great Warming."
Fagan refers to the ENSO effect, a natural phenomenon that is both unpredictable and cyclical, as "among the most powerful factors in global climate change."
Fagan's book documents how intense El Nino cycles devastated New South Wales and Victoria in Australia in 1870 - 1900, turning them into dustbowls fraught with dust storms lasting for days and raging forest fires. Earlier in 1790 Australia experienced "intense drought after monsoon failure."
Also false is the claim that rising sea levels caused or contributed to storm surges. In fact Britain's storm surge flooding dating back centuries lead to the construction of the Thames Barrier which went into operation in 1982. As Patrick Michaels reports Sept. 12, 2012 in World Climate Report non-climate factors like land subsidence and tectonic plate movement, are more responsible for coastal damage.
Storm surges in the 1200-1300's drowned 100,000 along the coast of the Netherlands.
"It seems the WMO is trying to make a case for increased insurance rates," says Gregory. "Tacloban in the Philippines was devastated by a typhoon in 1912. Rebuilding in the same place put people and property at risk with Typhoon Haiyan of 2013. This has nothing to do with human-induced climate change, but rather poor planning."
The WMO press release falsely claims "There is no standstill in global warming," pointing to a continued rise of temperature in the deep oceans.
Gregory says global warming has always referred to the near-surface air temperature, not the deep oceans.
Gregory points out that: "The UK Met Office global temperature index shows a cooling trend during the 21st century. Seven previous years were warmer than last year."
"Historical evidence indicates there were periods of megadroughts, in some cases longer than a century, before fossil fuel use," says Gregory.
Testimony by Roger Pielke, Jr. to the US Senate Committee of July 18, 2013 and another report issued Nov. 8, 2013 by the Global Warming Policy Foundation written by Madhav Khandekar indicate no trends to more extreme weather.
"One has to question the credibility of these global organizations that put billions of taxpayers' dollars at risk, but contradict each other's findings and historical fact," says Gregory.
About
Friends of Science have spent a decade reviewing a broad spectrum of literature on climate change and have concluded the sun is the main driver of climate change, not carbon dioxide (CO2). The core group of the Friends of Science is made up of retired earth and atmospheric scientists.
Contact:
Friends of Science Society
P.O. Box 23167, Connaught P.O.
Calgary, Alberta
Canada T2S 3B1
Toll-free Telephone: 1-888-789-9597
Web: friendsofscience.org
E-mail: contact(at)friendsofscience.org