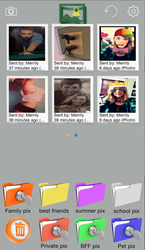 Snap Base offers all of the enhanced functionality of the leading apps and minimizes any impact on device memory and cloud storage.
Nashville, TN (PRWEB) March 27, 2014
Like most of the other Snapchat picture saving apps, Snap Base provides users with a photo saving functionality for Snapchat photos. What makes Snap Base for Snapchat app unique are the additional capabilities the app introduces. It allows users full Snapchat functionality, along with a comprehensive Photo editor/manager and a new organizational folders system for storage. These are now all built into a single app.
Additional functionalities were built in to address security concerns as of late. In a recent CNN news article Snapchat security has become a major concern for the users. The pictures and videos that are saved were intended to be viewed by one individual which is what prompted BadApp Studios, the developers of Snap Base, to create a password protection feature for all of the primary storage folders that are native within the app. Snap Base will not only save the pictures and videos, but it will also display them in a gallery format as if they were polariod pictures with the sender information below each saved pic or video. The user is able to drag and drop the photos into the desired folders and put the unwanted items into the trash bin. There are 7 different color coded folders each providing unlimited storage and the folders are able to display custom user defined names as an option.
In a Macworld article, the issue of memory management was discussed, suggesting that camera roll for each device is the primary source of memory drain. Snap Base contributes to the solution for low memory by offering storage of all saved pictures and videos in the folders, within the app. This is different than every other similar app on the market today, which only allow you to view, not move and organize the files without occupying space within the device camera roll should the user decide to store that photo or video. SnapBase also offers a full photo editing suite for fast and easy photo doctoring to accommodate those situations with the need for quick response with a humorous twist.
SnapBase is offering the user a new system to allow users to consolidate to one app that serves as a central home base for the entire Snapchat experience. It offers simple, flat iOS 7 inspired icons to enhance navigation and the familiar Snapchat user interface for sending pics and videos. The complete A to Z functionality that is made available to the user make SnapBase the most capable of all the complimentary picture and video saving apps. the secure folders and organizational picture and video saving and retrieving system raise the app into a class of its own. There will most likely be those that attempt to copy tbe system, but for now, Snap Base is the sole provider for complete, secure, all in one capability in colorful package. The app will be released on the App Store on Thursday, March 27th at a price point of .99 cents.
BadApp Studios is based in Nashville, TN and has been committed to developing apps that are designed to preserve device memory and keep the native camera roll free of downloaded photos coming from other apps. BadApp Studios currently manages Snap Vault for Snapchat, as well as the soon to be released InstaDots for Instagram, set for release March 27th on the app store. Bad App Studios also created the Shelfy family of apps (Shelfy for Snapchat and Shelfy for Instagram) which are both set for release April 3rd on the app store.