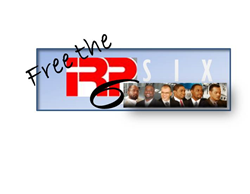 The limits of tyrants are prescribed by the endurance of those whom they oppress - Frederick Douglass
Denver, Colorado (PRWEB) March 25, 2014
Over 100 supporters of the IRP6 showed up in downtown Denver to protest the induction of Judge Christine Arguello into the Colorado Women's Hall of Fame. The group was protesting Judge Arguello's handling of the IRP6 federal criminal case that resulted in the judge sentencing the IRP6 to seven to eleven years in federal prison. (D. Ct. No. 1:09-CR-00266-CMA; Case Nos: NO. 11-1487, Case Nos. 11-1488, 11-1489, 11-1490, 11-1491 and 11-1492)
The IRP6 case concerns an African-American company (IRP Solutions Corporation) in Colorado that developed the Case Investigative Life Cycle (CILC) criminal investigations software for federal, state, and local law enforcement. The company was raided in 2005 by federal investigators alleging wrongdoing by company executives. The IRP6 (Kendrick Barnes, Gary L Walker, Demetrius K. Harper, Clinton A Stewart, David A Zirpolo and David A Banks) were convicted in 2011 after being accused of mail and wire fraud. (D. Ct. No. 1:09-CR-00266-CMA). The IRP6 have been incarcerated for 20 months in federal prison in Florence, Colorado while their case is under appeal.
Court records show that, among several points under appeal, Attorneys for A Just Cause are petitioning the courts to release over 200 pages of court transcripts from the IRP6 criminal proceedings that are deemed critical by the defense for their appeal. Court records from the criminal trial of the IRP6 show that Court Report Darlene Martinez admits to omitting over 200 pages of the transcript, and that Federal Judge Christine Arguello did not release the omitted pages. According to court records Judge Arguello stated, "First of all, the unedited version (of the transcript) cannot be used for any purpose... how many pages is it?" Martinez affirms, "Over 200 pages." Judge Arguello further states, "Over 200 pages...for no purpose that I can see that would be served by having that at this time." "I am not going to have an expedited, and unedited version (of the transcript) delivered to the defendants (IRP6)", concludes Arguello. (D. Ct. No. 1:09-CR-00266-CMA, October 2011, Court transcript pages 2062 -2063)
According to appellant documents, Attorneys for the IRP6 state that within the missing 200 pages of transcript is evidence of a sidebar with Judge Arguello which will substantiate a Fifth Amendment violation claim. Court records show that the IRP6 requested the transcript from court proceedings of October 11, 2011, but when the transcript was delivered it was discovered that the sidebar discussion was missing. (D. Ct. No. 1:09-CR-00266-CMA)
"One has to wonder what else is included in over 200 pages of court transcripts", ponders Thurman. "The sidebar with the judge is not going to take up for over 200 pages, so A Just Cause will continue to ask the question, 'What is so important in those pages that a judge would prevent it from being released'", asserts Thurman.
Supporters at the downtown Denver protest gathered signatures on a petition to garner community support for releasing the missing transcript pages. "At last count, during the rally petitioners gathered between 300 – 400 signatures in support of the IRP6", claims Sam Thurman, A Just Cause. "Many of those signing the petition expressed anger over the notion that over 200 pages of a transcript could be withheld, even though the act of withholding the pages is acknowledged in court records", adds Thurman. "There are even more signatures coming in through Change.org as a result of fliers that were handed out at the protest", Thurman states. "We feel that the protest against Judge Arguello drew significant attention, and we are confident that once citizens of this country are made aware of an injustice, they do the right thing by getting involved and join in the outcry", concludes Thurman.
The case of IRP Solutions (IRP6) is currently under appeal. (US District Court for the District of Colorado, Honorable Christine M. Arguello, D. Ct. No. 1:09-CR-00266-CMA; Case Nos: NO. 11-1487, Case Nos. 11-1488, 11-1489, 11-1490, 11-1491 and 11-1492).
For more information about the story of the IRP6 or for copies of the legal filings go to http://www.freetheirp6.org. Appellate Court panel includes the Honorable Senior Judge Bobby R. Baldock, Honorable Judge Harris L. Hartz, and Honorable Judge Jerome A. Holmes.
Related press releases: http://www.a-justcause.com/#!press-release/c21pq