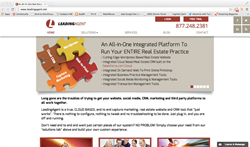 A Realtor's® database is EVERYTHING. Technology in the Real Estate Industry is disjointed and does not do the Realtor® justice. Our solution remedies this problem.
Sunnyvale, CA (PRWEB) March 28, 2014
Status 5 Studio today announces their real estate marketing suite, LendingAgent, which provides an end-to-end, cloud-based system consisting of a real estate CRM, integrated website, electronic and print marketing, social media, and business practice management. It solves the problem of managing multiple disjointed technologies in the real estate industry.
With literally hundreds of technology platforms available to Realtors®, it has become increasingly difficult to stay current with the latest technologies. In addition, given that most of these platforms do not integrate with one another, the integrity of a real estate agent's contact information is greatly impacted, requiring them to have multiple copies of the same client databases that are not consistent. Status 5 Studio has set out to remedy these problems by rolling out an all-in-one solution that allows agents to have all valuable data under one umbrella. It enables them to integrate all third party platforms they are using directly into LendingAgent, and having the data readily accessible across any device. The technology meets the extreme demands of keeping data consistent and up-to-date across all contact data platforms and provides real estate agents a cost-effective solution to data management and access woes.
With almost 15 years of experience delivering business and marketing solutions to the real estate industry, Chris Leo of Status 5 Studio said that new real estate agents looking at their product as a solution have voiced that they are signed up with an average of ten different technology platforms. "Even worse, because these platforms do not integrate with one another, the data immediately becomes redundant and cannot be updated in mass fashion. The net result is outdated and out-of-sync data. This puts the agent at risk of losing business, and our solution remedies this problem."
The goal of LeadingAgent is to make the process of keeping all contact information under one umbrella, synchronizing it automatically, and making it readily accessible. As for the third party integrations, Mr. Leo notes, "While I can't say we can integrate with everything, with over 250 current third party integrations, and more being added every week, everything is a distinct possibility."
How it works:
LeadingAgent, which includes a cloud-based real estate CRM built on the Salesforce.com© platform, is the catalyst that provides the single data source. Subscribers get an end-to-end real estate system that integrates their data and handles every aspect of their real estate business. The package includes a seat on their CRM system, a free WordPress© based website with full MLS integration, access to their on demand Web-To-Print Print Shop, a Capture Marketing Postcard solution for geographic farming, a robust social media management platform, and market-specific content generation that can be used by the agent for social media posts and blogging. In addition, the LeadingAgent team works with agents to integrate any other third party systems they are using, ensuring their data is fully replicated across all platforms, current, and available to them anytime, from anywhere.
To learn more about LendingAgent, please visit us at http://www.leadingagent.net.
About Status 5 Studio:
Status 5 Studio's LeadingAgent Real Estate Marketing Suite combines the best in both new and traditional media. Our one of a kind marketing, Website, CRM, Real Estate Business Practice Management, and Social Media Management systems help agents pinpoint leads, build relationships, and effectively close more business than ever before. Our systems are effective, measurable, and generate results. We give Real Estate Agents instant visibility and management of data across all platforms. LeadingAgent enables a seamless CRM experience that enables real estate agents direct access to up-to-date information from any PC, smart phone, tablet, or desktop system. To learn more about Status 5 Studio, please visit us at http://www.Status5.com.
Press Contacts:
Christopher Leo
President
Status 5 Studio, Inc.
chris(at)status5(dot)com
1-877-248-2381 X201
Darrell Alfaro
Director Of Sales
Status 5 Studio, Inc.
Darrell(at)status5(dot)com
1-877-248-2381 X205