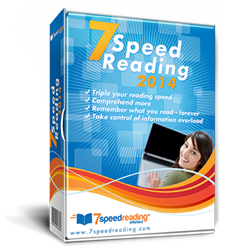 ... sometimes a good film can take a mediocre novel and turn it into something extraordinary.
New York City, NY (PRWEB) April 03, 2014
For some people, the film adaptations of their favorite books brings the characters to life. For others, the film often doesn't live up to the reader's expectations - although sometimes a good film can take a mediocre novel and turn it into something extraordinary. To find out whether 7 Speed Reading™ blog readers are for or against film adaptations of books, eReflect recently published its list of the top 10 books that people should read before the books are made into blockbusters. From "Noah" to the novel "This is Where I Leave" you by Jonathan Tropper, eReflect picked ten page-turners that every avid reader needs to read before they see the film adaptation.
Ron Rash's "Serena" will be in theatres in September 2014. It stars two actors known for their on-screen chemistry, Jennifer Lawrence and Bradley Cooper. "The Hundred Foot Journey" by Richard Morais is another international best-seller which people will get to see in theatres, with the film adaptation starring Helen Mirren and Manish Dayal.
7 Speed Reading™, a software that helps people learn to speed read, also recommends "Dark Places" by Gillian Flynn and "Divergent" by Veronica Roth. The film adaptation of the latter is already in theatres, starring Kate Winslet among other well-known screen personalities. Another film adaptation is based the novel "The Best of Me," by author Nicholas Sparks, already well known for his romantic dramas "Notebook" and the "Lucky One." It is recommended by 7 Speed Reading™ and eReflect, as is the film adaptation of the novel, the ninth by Nicholas Sparks to be developed for cinematic release.
"The Giver" by Lois Lowry and "Mockingjay" (from the best-selling Hunger Games trilogy) are two other books that made it to 7 Speed Reading's top 10 list. The blog editor has placed "The Fault in Our Stars" by John Green as the No. 1 book readers are encouraged to read before they get see it in theatres. The film adaptation is expected to hit theatres in June 2014, giving people plenty of time to read the book, even if they aren't already speed readers.
eReflect's software, 7 Speed Reading™, helps readers increase reading speed and comprehension and although popular novels don't always lend themselves to speed reading, an increased reading pace enables avid readers to devour more books in less time.
************
For more information about the benefits of using 7 Speed Reading, please visit the official website at http://www.7speedreading.com.
About 7 Speed Reading™
7 Speed Reading is the only modern speed reading software that uses the latest technology to produce superior results.
The software provides its users with a new way to master speed reading that guarantees three times the reading speed along with improved memory and comprehension.
The software is poised as the most comprehensive speed reading system anywhere. It contains seven learning strategies, fifteen software activities, video training, advanced tracking capabilities and many more exciting features.