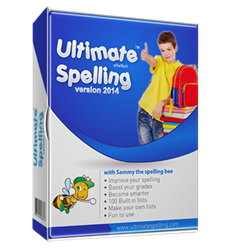 Spelling competency is an easily mastered skill, and fun as well, given the many games and fun activities children can use to master it...
New York City, NY (PRWEB) April 02, 2014
eReflect, champion of orthography skills and creator of Ultimate Spelling™ software, announces the company's congratulations to Kush Sharma for winning the spell-off in the state of Missouri. It took 90 rounds for Kush Sharma to be named winner of the local spelling bee contest, after competing against an equally skilled opponent. Kush Sharma will now be attending the Scripps National Spelling Bee in Washington, D.C., which will be held in May.
The seventh-grader ended the challenge in a face-off competition against Sophia Hoffman, a fifth-grade student, in what turned out to be a nail-biter of a final round. The two young and competent spellers correctly spelled all words given to them by the jury in the last round, which meant that the competition had to be postponed until the jury could come up with more words to quiz the students on. After the first 60 rounds which took place on February 22, 2014 at the Kansas City Public Library, the two spellers met again a week after for a re-match, since the previous confrontation ended with a tie.
In this record-breaking spell-off, Kush Sharma eventually prevailed over his younger opponent. As eReflect representatives report, the rematch draw the attention of many local residents, and the two spellers were even featured on nationwide television shows, including ABC's "Good Morning America."
The spelling competency of these two young students is undeniable. According to observers at the two matches, it is highly likely that Sophia and Kush will confront one another in a future spelling bee competition, something that many media outlets also forecast. The story of Kush and Sophia is a good reminder to students and parents alike that spelling can be challenging, fun, and even compelling, as people get caught up in the competition and the language skills it requires. eReflect, developer of the spelling program Ultimate Spelling™, congratulates both young Sophia and Kush for their extraordinary spelling skills and urges more young spellers to improve spelling performance, whether or not they are interested in participating in spell-offs or spelling bees. Spelling competency is an easily mastered skill, and fun as well, given the many games and fun activities children can use to master it through online and software-based programs.
***********
For more information about how Ultimate Spelling software can improve spelling performance for you and your family, please visit the official website at http://www.ultimatespelling.com.
About Ultimate Spelling™
Ultimate Spelling provides a modern and easy to use spelling software that has been designed with one goal in mind – making children want to learn.
It is a fast and easy way to master even the most complicated spelling, without the need to write long lists or complete boring tests.
In fact, Ultimate Spelling provides more than just spelling help. It is a complete educational resource that boosts all level of a child's literacy.
Containing a personal computer tutor, Ultimate Spelling is the most realistic step-by-step guide to flawless spelling ability.