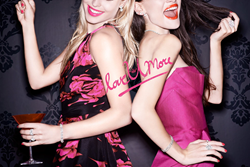 We believe in diamonds for all," said Feinblum. "They make everything, everyone and every outfit ROCK!
Los Angeles, CA (PRWEB) March 25, 2014
Coronet Diamonds (http://www.coronetdiamonds.com) today launches its first in a series of campaign images and branded videos, as well as an updated website, to a younger, more fashion-driven audience. Coronet Diamonds launched in August 2013 offering top-quality, diamond and gold jewelry at a great, affordable price point. The "Love U More" campaign series shows a group of friends out for the night, and features how Coronet Diamonds may be worn not only for special occasions, but styled for every day.
"Coronet Diamonds offers the perfect luxury accessories to complement any outfit. Our rings, necklaces and bracelets should be worn on your special day, but more importantly, day to day," said Shawn Feinblum, Coronet Diamond's Vice President of Sales & Marketing. "Our patented Coronet Solitaire never compromises on diamond quality, but is still offered to our loyal customers at an attainable price."
The "Love U More" campaign is a series of images and a branded video campaign by the celebrity photography duo BRAKHAX2 (Moshe and Eddie Brakha) and will be disseminated over Coronet Diamonds Social Media channels @coronetdiamonds on Twitter, Instagram and Pinterest and on Facebook at Coronet Solitaire @coronetsolitaire.
The "Dancing Image" featured with this release includes the jewelry styles such as the Kneph ($5500) and Bahlam ($1525) rings and Rhea earrings ($2150). Coronet Diamond pieces start at $800 and continue to couture pieces available at the brand's more than 50 retail locations in North America, including Reed's Jewelers, Rogers Modesto and Moodys Jewelry.
The redesigned Coronet Diamonds Website is accessible on all Internet browsers and mobile devices and features an e-commerce section with the ability to ship internationally.
"We believe in diamonds for all," said Feinblum. "They make everything, everyone and every outfit ROCK!"
For more information, and to learn more, please visit http://www.coronetdiamonds.com.
About Coronet Diamonds
In 2013, Aaron Shum Jewelry™ proudly chose Carl K. Gumpert, Inc. to exclusively bring the patented Coronet Solitaire to North America through the branded name— Coronet Diamonds. As trusted fourth generation jewelers, our hailed designers have used the tools of the trade to create innovative, luxury jewelry for decades. Now, with today's diamond tools, precision is perfection, allowing Coronet Diamonds to create breathtaking designs using only high-quality diamonds in our white-gold setting—beauty and luxury at an affordable price!