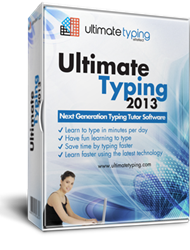 New York City, NY (PRWEB) April 07, 2014
Kathy's Cluttered Mind, a blog dedicated to homeschooling, has teamed up with eReflect to present the many opportunities for typing improvement through the use of their software, Ultimate Typing™. Kathy Balman, owner and manager of the blog, presents the main features of Ultimate Typing™ to her readers and explains how it can help young learners acquire a key technological skill that will save them many hours over the years. As life at work and at home becomes more tech-based, she notes, it is only natural that people will need to be more efficient typists so as to complete typing-related tasks quickly and accurately.
The post on the Kathy's Cluttered Mind blog emphasizes the software's engaging and fun characteristics, and Balman points out that these ensure that children won't get bored; there are many activities and games to practice typing with. She also mentions a few tips on how to achieve touch typing efficiency through five easy-to-follow steps.
Equipping children with necessary and timeless skills like touch typing ensures future generations will be knowledgeable and competent individuals. Investing in a child's technological literacy should be a priority for teachers and parents, and opportunities to learn skills like typing should be made available to every young learner, whether they're homeschooled or attending a public school. For that reason, eReflect seeks to reach out to homeschooling parents across the nation and present the multiple benefits of touch typing proficiency. Children who learn how to type are more likely to use that skill to save time, create impeccable typed documents, and overall become more efficient users of technology.
eReflect's partnership with Kathy's Cluttered Mind not only resulted in Balman's featuring Ultimate Typing™ in a blog post, it has also provided for a limited time offer for readers of Kathy's Cluttered Mind: anyone purchasing Ultimate Typing™ is eligible to also receive eReflect's Ultimate Spelling™ software for free. The partnership of eReflect with Balman and the Kathy's Cluttered Mind blog is designed to introduce new ways of learning to a wider readership. These technology-based methods will be a help to homeschooling students and anyone else interested in improving their typing skills.
*********
For more details on Ultimate Typing™ please visit http://www.ultimatetyping.com/.
About Ultimate Typing™
Ultimate Typing™ software is designed specifically for the improvement of typing skills. Created by eReflect, a world leader in e-learning and self-development software, Ultimate Typing™ has been informed by the latest developments in the science of touch typing.
Since its creation in 2006 by Marc Slater, the company has already catered to over 112 countries all over the world, offering products with the latest cutting-edge technology, some of which are among the world's most recognized and awarded in the industry.