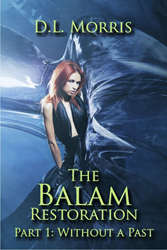 (PRWEB) March 30, 2014
Is panic an option? When Kendra "Amaratzu" Anteen, the only hope for humanity, languishes in a maximum security Avalonian prison colony convicted of war crimes, Alexander Lokraven, grand admiral and supreme commander of the Avalonian Coalition, uses his prestige and influence to conduct the most daring break-out in history.
Together they made preparations for the final showdown with an enemy that wishes to destroy anything and everything that is not of their design.
Now, as the time approaches, she can't even remember who she is, let alone the plan for The Balam Restoration. Can she escape the shut down, but not abandoned, subterranean military facility before she runs out of air and options? Can she put the pieces of her life together? Can she succeed "Without a Past"?
Panic is not an option.
Watch the Video Book Trailer at: http://www.youtube.com/watch?v=3IV3y01D_rc
The Balam Restoration: Without a PasT (ISBN: 978-1-62857-237-7) is now available for $10.95 and can be ordered through the publisher's website:
http://sbprabooks.com/DLMorris or at www(dot)amazon(dot)com or www(dot)barnesandnoble(dot)com.
wholesalers: This book is distributed by Ingram Books and other wholesale distributors. Contact your representative with the ISBN for purchase. Wholesale purchase for retailers, universities, libraries, and other organizations is also available through the publisher; please email bookorder(at)aeg-online-store(dot)com.
About the Author: D.L. Morris grew up a military brat and spent eight years in the Navy. He is an equipment technician for a major laser manufacturer in Brunswick, New Jersey. This is his first book and he is writing the sequel.
Strategic Book Publishing and Rights Co, LLC