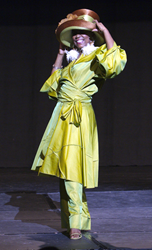 We enjoy what we do, as we help others to look and feel good about themselves.
Atlanta, GA (PRWEB) March 25, 2014
Style watchers are promised to be mesmerized by the Wilbourn Sisters' bold, exquisite statements making opulent use of lush fabrics, layered textures and prints galore. These signatures are often found on any Wilbourn runway and are expected to be big crowd-pleasers Saturday evening at Hillside.
The event also features poetry, dance and lots of entertainment and surprises. The Hillside Spring Fling Fashion Extravaganza featuring the Designing Wilbourn Sisters is presented by the Hillside Board of Directors lead by Dr. Barbara L. King, Founder Minister/World Spiritual Leader.
This is a ticketed event. Ticket information is available at http://www.HillsideInternational.org.
Janice and Carolyn Wilbourn, are the owners of Wilbourn Sisters Designs, they make all of their clothes in their studio. They started their company in 1981 in Dallas, Texas. The ladies learned their craft of sewing and design skills from their mother Elizabeth Chism Wilbourn, affectionately known as "Queen Mother Elizabeth".
The Wilbourn Sisters are known across the globe. They have traveled and worked extensively abroad in Germany, Europe, Scotland, Paris and Switzerland. All Wilbourn Sisters Designs are exclusive original fashions for women and men of all nationalities. Their sketching, designing and sewing are done in their Design/Boutique Studio in the Lithia Springs suburb of Atlanta, Georgia. The Wilbourns' clothing line can be found in various boutiques throughout the states and in Macys at Greenbriar Mall Shopping Center in Atlanta.
"We enjoy what we do, as we help others to look and feel good about themselves," says Janice Wilbourn. "As we move into the Spring and Summer of 2014, we are very excited to bring a burst of color and a vivid imagination into our clothes."
Wilbourn designs may also be purchased online at http://www.etsy.com/shop/wilbournsisters
Hillside International Truth Center, Inc. - Dr. Barbara King, Founder Minister/World Spiritual Leader - is a "New Thought" institution dedicated to transforming and healing lives by demonstrating the teachings of Jesus the Christ for over 42 years. Hillside is open to all people regardless of religious affiliation, age, race, gender, sexual preference, or any other label. Hillside's famous 1200-seat Sanctuary-In-the-Round is located at 2450 Cascade Rd. SW, Atlanta, GA 30311. Telephone: 404-758-6811; Email: info(at)hillsidechapel(dot)org.
Media Contact: Michael W. Billups - mbillups(at)hillsidechapel(dot)org; mbillups(at)gmail(dot)com phone: 404-333-8997