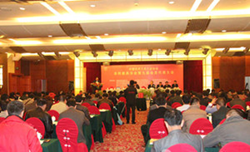 Zhengzhou, China (PRWEB) March 25, 2014
The leader from iAbrasive, which is a renowned Chinese abrasives and diamond tools online trading platform, indicates at the Chinese Abrasives Conference that labor shortage in abrasives industry will bring great opportunities to automations.
"Actually, abrasives market conditions have improved compared with last year, however, most abrasives factories are faced with recruitment difficulties," Manager Lei from iAbrasive says so when being interviewed.
According to Lei's description, most workers complain that the working conditions in abrasives factories are too hard to bear though higher salaries are paid. Most enterprises have no choice but to replace labor forces with automatic equipments, which brings equipment manufacturers with promising prospects. If being promoted in the whole country, it will contribute a lot to China's environmental protection and energy saving.
To get more news about China 2014 Abrasives Conference held in Yangzhou, Jinagsu, follow us at: http://www.iabrasive.com/articles.
About iAbrasive
Headquartered in Zhengzhou, Henan province, iAbrasive is a communication and information platform specifically for abrasives industry. It offers domestic sellers the opportunities to present themselves to overseas buyers, as well as the accesses to the most in-depth and comprehensive information on the latest developments, trends, services and products from different areas. For abrasives purchasing and supplying information, users are available at: http://www.iabrasive.com.