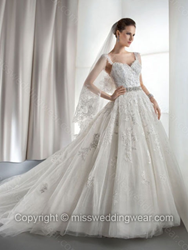 (PRWEB) March 25, 2014
Many brides-to-be buy their wedding dresses from local bridal shops, which is the most expensive route for searching a bridal gown. MissWeddingWear, a reputable online wedding dress wholesaler, has recently introduced its special offer for 2014. It would be an alternative place where the brides can get a cheap bridal gown 2014 without spending a fortune. If anyone who is looking for a very cheap wedding gown and still wants it to be first quality, MissWeddingWear could be top of her list.
"When looking for a bridal gown it is important not to sacrifice taste for price," says Damon S, President and founder of MissWeddingWear, "Many brides end up spending more than they originally intended to when purchasing their bridal gowns. MissWeddingWear doesn't have to pay the high costs for a storefront, and pass these savings to customers. By choosing Missweddingwear, the brides can save themselves a lot of money and keep within the wedding budget. Shop a cheap bridal gown 2014 with Missweddingwear at a bargain price. Now you can look like you spent $2,000 on your bridal gown when in all actuality, you maybe spent $299!"
About Missweddingwear
Missweddingwear.com is giving a huge range of luxury bridal gowns, events dresses and fashion essentials with competitive prices and high quality. All the exquisite designer style dresses and glowing accessories can make you shine like super stars. Take a look at http://www.missweddingwear.com and find the best designs around the globe, just like you experience an amazing travel from Fashion Week to Awards Red Carpet!
Find out the latest bargains and special offers by visiting http://www.missweddingwear.com.