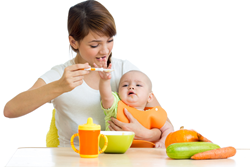 It is much more economical for the family to share their food with their infants instead of buying pre-made processed baby food
London (PRWEB UK) 25 March 2014
Research reveals that babies who are spoon-fed by their parents during weaning may develop an inability to tell when they are full which could lead to a higher chance of becoming overweight in older age.
Scientists believe that infants should be allowed to feed themselves during the change from liquid food to solid food to help prevent them from eating too much and becoming overweight toddlers.
A study from Swansea University also showed that spoon-fed children were more likely to be "fussy-eaters" compared to those left to their own devices.
Superintendent Pharmacist at ChemistDirect, Omar El-Gohary, said: "A baby at four to six months is still developing and the intestinal tract is not capable of digesting too much food. Infants are incapable of giving signs that they are full so it is important to allow them to pick at food for themselves."
Instead of spoon-feeding pureed baby food when weaning, experts are advising that parents allow their children to choose food from the meals that the rest of the family eats. This encourages appetite control as it enables infants to assess how much they want to eat based on how full they are.
The study examined the eating habits of 298 babies – primarily looking at how they were introduced to solid foods between six and 12 months. The weight of the children was then monitored at 18 – 24 months. http://ind.pn/1cWybzP
Doctors found that the infants weaned using a baby-led approach were "significantly more" able to stop eating when they felt full. This control of appetite had a significant long-term impact on the weight gain and eating style into childhood.
El-Gohary added: "The benefits of giving children the food that the family eats is that you can monitor the amounts of salt and sugar in everything plus the consistency can be changed very easily with a few drops of water. In addition to this, it is much more economical for the family to share their food with their infants instead of buying pre-made processed baby food."
Obesity in children is a concern in the UK, with one in seven children being classed as obese according to the NHS. This has both health and social implications. "Responsive feeding" is a necessary step to encourage children to develop healthy eating patterns for the rest of their lives. http://bit.ly/19Ppzfv