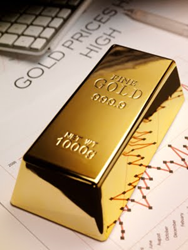 Over five years we've assisted long standing and new to the market numismatists to take advantage of gold price increases by procuring better than market related prices.
London, UK (PRWEB UK) 25 March 2014
As far as precious metals go, gold has always taken centre stage over the ages. Kings and queens have always been adorned in it, cities have been created from by it, and most of the rarest and valuable coins in the world are those that have been cast from it. It is this special allure of gold, along with its status of continually rising in value on the back of global political instability that has seen demand spike in recent months. This has prompted the asking price to peak at a highly profitable $1,371.74 a fine ounce.
Those numismatists that have chosen to resist the urge to dip in and out of the traditional investment markets are sure to be rather pleased with the route they have taken. Once again history has proven that by not electing to take the gamble of making a quick profit on stocks, equities and hedge funds, the decision to take the longer term route of investing in rare gold coins and gold sovereigns is paying off.
As a consequence of the gold price peaking and more and more investors casting an eye towards this sector of the investment market, Hallmark Coins has witnessed a flurry of activity from both buyers and sellers alike.
Elliot Basker, Online Business Manager, Hallmark Coins, says, "As impartial facilitators for the buying and selling of gold, silver and sovereign coins at market related prices, we have been inundated with requests from numismatists to have their collections and portfolios valued.
"Our free coin valuation service has been busy with investors keen to see if they can turn a tidy profit from their long-term investment on the back of this new rise in the gold price. But it's not just sellers that have been getting in touch. There are many new investors that are suddenly keen to enter the market and start building a portfolio with us as well. We're pleased to say that our experts have been able to assist both parties to get what they want from this bout of good news."
It would appear then that in this instance the age old expression of all good things come to those that wait has been proven right again. But there is a caution that if the Chinese economy recovers and the crisis in the Ukraine changes its status, the picture could be very different in the not too distant future.
So for those who are looking to strike while the iron is hot, or in this case gold, it is highly advised that all of those numismatists out there who are in the market to part with some or all of their collection get in contact with these expert evaluators sooner rather than later. That way they'll be able to accurately determine the definitive asking price for their precious portfolios.