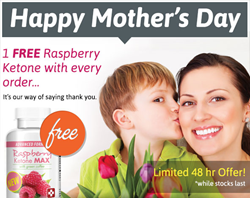 Glasgow, United Kingdom (PRWEB UK) 26 March 2014
Abraham Lincoln once said: "All that I am, or hope to be, I owe to my angel mother."
Mothers should be cherished each and every day of the year, but Mother's day is another time to celebrate mums everywhere. It's time for family gatherings, beautiful garden bouquets, and breakfasts in bed.
However, with the joy of being a mum also comes the hassle of putting on weight during the long pregnancy months and the most asked fitness questions: How can I lose the baby weight? And will I ever be able to wear my pre-pregnancy clothes again?
For this Mother's Day, Bauer Nutrition wants to say thank you to mums everywhere and help all mothers struggling with their weight. Bauer Nutrition is giving away 1 month supply of one of their bestselling weight loss supplements (worth £34.95) with any purchase made on Bauernutrition.com on Mother's Day weekend by using the code: mdketone.
Bauer Nutrition is an online health and beauty boutique committed to supply and manufacture the finest products worldwide. Their first mission is to make their customers feel good about themselves each and every day. Products are manufactured in the UK and range from nutritional supplements, weight loss supplements to muscle gain shakes and anti-aging creams.
To find out more about Bauer Nutrition's range, visit: http://www.bauernutrition.com