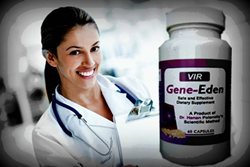 It's clear that every drug approved by the FDA against a hepatitis C infection is either too expensive, or has too many side effects, or both. - Mike Evans, polyDNA
Rochester, NY (PRWEB) March 27, 2014
A new drug called Sovaldi costs at least $1,000 per pill. Congressmen are now demanding that Gilead Sciences, the developer of Sovaldi, justify the price of its drug. "'Our concern is that a treatment will not cure patients if they cannot afford it,' the congressmen said (1)." In addition to the concerns raised by Congress, some insurers say "the system cannot absorb the $84,000 price for a 12-week course of treatment - or $1,000 a daily pill (1)." In light of this issue, polyDNA recommends that doctors learn about Gene-Eden-VIR. This natural HCV remedy was proven to reduce hepatitis C symptoms in a post-marketing clinical study that followed FDA guidelines. In addition, it is also affordable for those in low income brackets.
Many doctors are shocked and outraged at Sovaldi's price. As Dr. Steve Miller said, "It's unprecedented that we have a drug that is this expensive that this many patients can benefit from. You have a drug that has the potential to break a lot of the payers (1)." Dr. Miller is the chief medical officer for Express Scripts, the largest pharmacy benefits manager.
According to Dr. Miller, "more than half of those infected (with HCV) were uninsured or in Medicaid, in prisons or veterans. That means the costs (of Sovaldi) will fall largely on taxpayers (1)."
"Hepatitis C is a liver disease that results from infection with the hepatitis C virus. It can range in severity from a mild illness lasting a few weeks to a serious, lifelong illness… hepatitis C can be either 'acute' or 'chronic.' Acute hepatitis C virus infection is a short-term illness that occurs within the first 6 months after someone is exposed to the hepatitis C virus. For most people, acute infection leads to chronic infection. Chronic hepatitis C is a serious disease than can result in long-term health problems, or even death." (See the CDC, last updated on May 6, 2013) (2).
Sovaldi is not the only drug approved by the FDA against a chronic HCV infection. However these drugs are "associated with additional side effects, increased costs, and more complex treatment strategies." (See Pharmacology & Pharmacy, from September 2013) (3).
"It's clear that every drug approved by the FDA against a hepatitis C infection is either too expensive, or has too many side effects, or both. We therefore recommend that individuals with HCV speak to their doctors about Gene-Eden-VIR, which is safe, effective, and affordable." - Mike Evans, polyDNA
Gene-Eden-VIR, a natural HCV remedy, was designed to help the immune system target the latent virus. A study published on August 12, 2013 in the peer reviewed, medical journal Pharmacology & Pharmacy, in a special edition on Advances in Antiviral Drugs, showed that Gene-Eden-VIR reduced hepatitis C symptoms (3).
Study authors wrote that, "Individuals infected with the hepatitis C virus…reported a safe decrease in their symptoms following treatment with Gene-Eden-VIR (3)." The study authors also wrote that, "We observed a statistically significant decrease in the severity, duration, and frequency of symptoms (3)."
Doctors can read the entire scientific paper by visiting http://www.scirp.org/journal/PaperInformation.aspx?paperID=36101#.Uu95eD2Sz90.
To learn more about Gene-Eden-VIR, and HCV, visit http://gene-eden-kill-virus.com/HCV.php. All orders of Gene-Eden-VIR are completely confidential, and no information is shared or sold to any third party. Privacy is assured.
References:
(1) The New York Times - Lawmakers Attack Cost of New Hepatitis Drug. Published on March 21, 2014.
http://www.nytimes.com/2014/03/22/business/lawmakers-attack-cost-of-new-hepatitis-drug.html?_r=0
(2) CDC - Hepatitis C Information for the Public. Last updated on May 6, 2013.
http://www.cdc.gov/hepatitis/c/
(3) Gene-Eden-VIR Is Antiviral: Results of a Post Marketing Clinical Study. August 12, 2013.
http://gene-eden-kill-virus.com/PP_Gene-Eden-VIR-is-Antiviral.pdf
polyDNA is a biotechnology company that develops dietary supplements using the unique scientific method developed by Dr. Hanan Polansky, which is based on Computer Intuition.
In addition to his unique scientific method, Dr. Polansky published the highly acclaimed scientific discovery, called Microcompetition with Foreign DNA. The discovery explains how foreign DNA fragments, and specifically, DNA of latent viruses, cause most major diseases.
polyDNA developed Gene-Eden-VIR, an antiviral natural remedy that helps the immune system kill latent viruses.