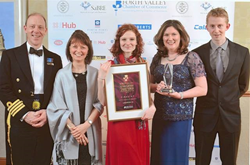 Ann-Maree has the typical entrepreneurial spirit. She took a problem, and created a solution for it. Now she runs a successful business. - Karren Brady
Stirling, Scotland (PRWEB UK) 26 March 2014
The Forth Valley Chamber Business Awards were a success for Ann-Maree Morrison and her business Labels4Kids. Having been nominated for Entrepreneur of the Year and Best E-Commerce Strategy, the 'mumpreneur' mother-of-three walked away with Entrepreneur of the Year and finalist for E-Commerce Strategy of the year.
Adding to such awards as the Nectar Small Business Entrepreneur of the year 2013 and the Online Retail Awards Children's category, Ann-Maree has shown her success in and commitment to growing and improving her business.
What started out as a solution to her son losing his shoes at school is now a 7-language and worldwide selling business not only selling name labels but associated children's products such as ID bands and vinyl stickers as well.
With 2014 off to such a good start, the future can only be bright for Ann-Maree and the Labels4Kids team.