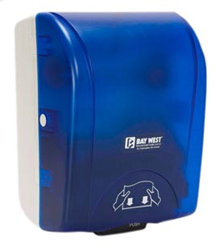 Bay West was the first EU Eco Label certified dispenser of its kind.
(PRWEB UK) 26 March 2014
Disposables UK are a family-run business which currently operates in the Netherlands, Denmark and France as well as the UK. Between the 6th -9th of May they will be attending this year's ISSA Interclean show in Amsterdam to showcase its brand new Bay West products. This year's show comes as Disposables UK continues its European expansion plans following a successful 2013. The business has plans to to expand into such areas as Germany, Netherlands and Eastern Europe.
The products unveiled will include luxury items such as high end toilet tissue and hand towels for 'away from home environments' which have all been made on the new £1.7 million production line at Disposable UK's new premises.
With all this in mind, Vita Direct are extremely pleased to announce that our business is one of the main suppliers of the Bay West system, extending business into existing and new areas in the UK. Vita Direct knows that to offer a Bay west System is to offer a washroom solution, that is not only Eco-friendly but is also capable of saving the user on cost, time and waste. Vita Direct is also confident that the paper products produced by disposables are both cost effective and of a high standard so the customer is satisfied with there choice. Vita Direct is so committed to the products produced by Disposables UK that we offer a trial period so the customer can see for themselves the quality of the product, Vita Direct will then supply and fit the dispensing systems for free. The Bay West system was also the first of its kind to be EU Eco-Label certified meaning the entire material sourcing and manufacturing process is measured to ensure minimal impact on the environment.
Vita Direct is a company based in the North East UK which deals in a wide rang of cleaning and janitorial supplies. Visit http://www.vitadirectuk.com for more details and products.