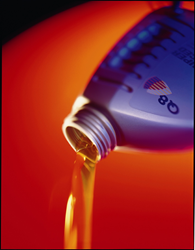 Leeds, UK (PRWEB UK) 26 March 2014
Developed to VW 504.00 and 507.00 specifications for normal and extended drain intervals, Q8 Formula VX Long Life 5W-30 is backwards compatible with most VW engines (with or without pump injectors) requiring 501.01, 502.00, 503.00, 503.01, 505.00, 505.01, 506.00; and R5 TDi and V10 TDi models diesel engines requiring 506.01. It is also suitable for other diesel and gasoline engine specifications including ACEA C2, ACEA C3, BMW Longlife-04, MB 229.51 and Porsche C30.
Benefits include high oil film strength under all engine operating conditions and excellent engine performance in all driving conditions; whilst offering outstanding protection against foam formation, rust and corrosion.
Further information on Q8 Formula VX Long Life 5W-30 from Q8Oils and its range of passenger car motor oils is available at http://www.Q8Oils.co.uk, by emailing Marketing(at)Q8Oils(dot)com or calling +44 (0)113 235 0555.