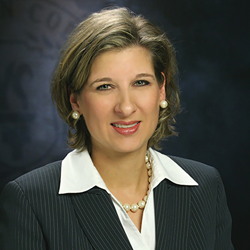 "We are thrilled to see our students rise to an international level where their experiences and knowledge will help many other teachers provide a better education for our children throughout the world."
Indianapolis, IN (PRWEB) March 26, 2014
Near East South Asia (NESA) Council of Overseas Schools recently selected Melanie and Donovan Dorning, American College of Education graduates, to present their master's degree capstone experience at the upcoming NESA Spring Educators Conference on April 7, 2014, in Bangkok, Thailand.
A capstone project is the culminating assignment requiring students to apply the skills and knowledge gained during their degree studies while encouraging them to connect to community issues or problems. The Dornings requested to collaborate in completing their capstone that focused on how reading incentive programs can motivate students to read more. "During our research, we found that children are reading less in the digital age," said Donovan Dorning. "We also researched how motivation can be linked to reading incentive programs. Using our research, we developed a reading incentive program that we introduced at our elementary school called Reader Ranger."
The Dornings teach at American schools overseas where they were able to continue teaching while completing Master of Education degrees at American College of Education. "We chose to earn our master's degrees from American College of Education not only because it is an accredited, online college that gave us the flexibility we needed but also because it offers truly relevant coursework that we immediately used in our classrooms," Dorning said.
The Dornings are looking forward to sharing their knowledge with teachers on an international level. "We believe the foundational instruction we received at American College of Education allowed us to focus on the areas that matter most to today's students," Dorning continued. "During our time there, we gained the research tools and mentorship necessary to develop a valid presentation based in peer-reviewed research that will benefit all educators who choose to attend."
"Our students continue to be impressive, even on a global scale," said American College of Education Interim President Shawntel Landry. "Melanie and Donovan Dorning's capstone is a powerful piece that demonstrates what they learned here as well as how they will carry that knowledge forward."
According to Landry, one of the founding principles for American College of Education is to help teachers and other leaders provide a better education in all school systems. "We are thrilled to see our students rise to an international level where their experiences and knowledge will help many other teachers provide a better education for our children throughout the world."
The college provides several advanced programs for educators with interactive courses designed to inspire collaboration. "American College of Education students have access to the top research tools and can collaborate with professors across the world, which is why many students like the Dornings enroll with us," said Landry. "We continually evaluate our courses to ensure that program assignments can be applied immediately to our students' professional settings throughout the world."
American College of Education offers Master of Education degree programs for less than $8,000 in addition to certificates, paths to licensure and doctoral level programs. "We are proud to be the first online graduate school for educators that fulfills the promise of earning a quality, online degree on a teacher's budget," commented Landry. The college is known for high academic standards, innovative programs and quality student support.
###
About American College of Education
American College of Education delivers affordable, online graduate programs that provide evidence-based content and relevant experiences to improve educators' knowledge, skills and performance. The college is regionally accredited by the Higher Learning Commission. http://www.ace.edu