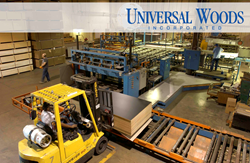 ...our customers will benefit greatly from our ISO 9001:2008 recognition, as it distinguishes Universal Woods from the competition.
Louisville, KY (PRWEB) March 26, 2014
After taking the necessary steps to meet International Organization for Standardization (ISO) guidelines for quality, Universal Woods (a Kentucky-based manufacturer) is proud to announce SRI Quality System Registrar awarded the manufacturer an ISO 9001:2008 Management System certification.
ISO established a set of "requirements, specifications, guidelines or characteristics that can be used consistently to ensure that materials, products, processes and services are fit for their purpose." In essence, ISO established international standards of quality and management by holding organizations accountable to guidelines and best practices.
Universal Woods, with support from Bluegrass Economic Advancement Movement (BEAM), a joint initiative between the cities of Lexington and Louisville to generate and improve economic strength in the Bluegrass, is determined to compete globally and increase its exports.
Universal Woods believes that leading by example and becoming ISO 9001:2008 Management System certified might encourage other local and regional organizations to follow-suit, improving the ability for the Commonwealth to increase and sustain international trade.
Superior goods, competitive pricing and ethical practices are the reasons Universal Woods' President and CEO, Paul Neumann, gives as to why the company will compete on a global scale. "Universal Woods has an objective to increase our sales both domestically and internationally. Our ISO 9001:2008 certification is just one more step in the process that will allow us to compete against lower quality products by presenting a compelling value proposition to customers around the world."
ISO 9001:2008 and ISO 14001:2004 certifications are often bid requirements for many European countries, so with global growth as a directive, certification was a priority. The certification is applauded by Erik Wiegman, Managing Director for Universal Woods EMEA, located in Belgium. "This certificate is confirmation of our ongoing efforts to improve processes. We strive to provide quality products worldwide and our customers will benefit greatly from our ISO 9001:2008 recognition, as it distinguishes Universal Woods from the competition."
Certification is a global opportunity for customers to recognize transparency and accountability of an organization. "ISO 9001:2008 alone won't help companies improve the goods produced or processes executed," says Charles Hopkins, Director of Quality at Universal Woods. "ISO doesn't tell us how to do our jobs or run our business; we maintain control over that. We [Universal Woods] determine the level at which our organization, our products, and our processes will perform. What the ISO 9001:2008 certification will do, however, is confirm to customers across the globe that we are doing what we said we would do in how our business is run."
About: Universal Woods
Universal Woods is the world's leading manufacturer of flat hard-surface sublimatable goods. Privately owned and headquartered in Louisville, KY, Universal Woods proudly manufactures products for sister-brands Unisub, ChromaLuxe, SwitchCase and Resindek for domestic and international consumption; currently exporting goods to over 55 countries worldwide. The Universal Woods family of brands: Unisub - a leader in the sublimatable gift market, ChromaLuxe - The world's leading brand of metal prints and photo panels, Resindek - high-performance mezzanine flooring and SwitchCase - offering mobile device cases with most vibrant, true-to-life image reproduction available.
http://www.UniversalWoods.com
About: International Organization for Standardization (ISO)
ISO (International Organization for Standardization) is the world's largest developer of voluntary International Standards. International Standards give state of the art specifications for products, services and good practice, helping to make industry more efficient and effective. Developed through global consensus, they help to break down barriers to international trade.
ISO develops International Standards. We were founded in 1947, and since then have published more than 19 500 International Standards covering almost all aspects of technology and business. From food safety to computers, and agriculture to healthcare, ISO International Standards impact all our lives.
http://www.ISO.org