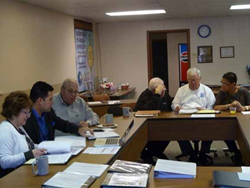 This experience has been invaluable. We took our learning from the classroom and put it into real world application... Bonnie Bailey (Finalist for Vegas) – Shepherd University
Middletown, OH (PRWEB) March 25, 2014
The three finalist teams were selected from seven teams in the semi-finals round. They had passed the initial phase of submitting their Comprehensive Financial Plan according to specifications and also the second phase where the plan criteria concentrated on numbers and figures. On March 6th, they prepared for their third phase. "All of the semi-finalists were presented with a difficult task of presenting via web conference to a panel of experienced IARFC Board of Directors," said Amy Primeau, Plan Competition Coordinator. "The teams from Bryant University, Bowling Green State University, and Shepherd University all rose to the challenge."
The teams from these three Universities presented their recommendations for the fictional Brewster family in a professional, client-oriented manner. They had been instructed to treat the panel of judges as if they were the "real" Brewsters and convince the family that they should be retained as the financial consultants to act on their behalf. Presentations included appropriate recommendations based on number crunching and keeping into account the dreams and goals of the family. "It was quite clear that the top three finalists had put a lot of time and effort into the Brewster Family Plan," said Plan Competition Judge Isabel Cooper, IARFC Board Director and an advisor with Edelman Financial Services. "It was impressive to see potential future financial consultants in the making. The Las Vegas Finals will be interesting."
Those undergraduates making the trip to Las Vegas are: Bonnie Bailey, Akhtar Khan and Avery Mendzela from Shepherd University (Professor Nicholas Pologeorgis); Jamie Pepin, Kyle Creedon and Lauren Fayne from Bryant University (Professor Mara Dederian); Dana Kaufman, Elizabeth Kevorkian and Becca Smoody from Bowling Green State University (Professor Matthew Garrow). Their instructors will be accompanying them as they continue in the competition.
When asked if the competition process would affect his future in the financial profession, finalist Kyle Creedon responded, "Finance is definitely the profession I plan to pursue. Learning the different elements of the financial planning business helped prove what I wanted to do with my career and future. It has helped me learn many things that I haven't experienced before."
IARFC CEO and Board Chairman Ed Morrow sat in on a number of the web conferences. "As a member of the IARFC, this makes you feel good about the learning opportunities the Association made available for these students," he commented. "If these three finalist web presentations are indicative of the quality of live presentations being planned in Vegas, our efforts are extremely justified."
For more information on attending the live "Finals" event hosted by the IARFC on May 1, please visit http://www.iarfc.org for Plan Competition Details. The IARFC will also host a pre-competition Impact Branding workshop on Thursday hosted by Ed Morrow, Les Anderson (IARFC President) and guest speaker Pete D'Arruda (IARFC Board Director).