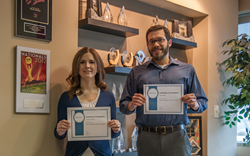 Hagerstown, MD (PRWEB) March 26, 2014
With the goal of improving employee engagement and streamlining best business practices, Power Marketing & Advertising, LLC is proud to announce the company has earned Yammer Power User Certification. The two-week program included a series of educational videos, training modules and tests focused on building a strong foundation of enterprise social networking and management. Lead Designer Amanda Linthicum and Web Developer Trent Semler passed with a final exam score of 100 percent.
Since earning certification, the marketing and SEO company has been using Yammer to share internal project progress and statuses with all employees. Once a project is completed, the employee shares it with the rest of the company for social media purposes and to keep all team members on the same page. Yammer also keeps track of client meetings and other events company wide.
"With a small company like ours, we've been using the service to keep track of day-to-day operations we wouldn't want to share with everyone by email because of large file sizes or hassle of carbon copying the entire office," Linthicum says. "Through our training, we learned that Yammer really shines with even larger companies than ours. While we're using Yammer for internal purposes at Power Marketing, we'll also offer Yammer training to our clients as a company-centric social networking, project management and communication tool."
Power Marketing plans to use Yammer to keep coworkers up-to-date and in touch with all client communications, including sharing important files, collaborating on projects, and generating fewer emails. Yammer will allow clients to forego long email distribution lists, which saves time and hassle. Yammer events, like client meetings, can integrate with Outlook, Google, Yahoo and iCal. Tagging of topics allows for a more efficient way to group and find past conversations, previously only available through email search. Overall, this certification and implementation will allow for better communication inside and outside of the company with clients, their customers, vendors, partners and more.
To learn more about Power Marketing's certifications, awards and services, click here.
About Power Marketing:
Power Marketing, LLC is a full-service marketing firm with more than 22 years of hands-on experience in brand strategy, Internet marketing, SEO for home builders, social media marketing and web design in MD. Power Marketing assists companies in maximizing their resources to improve their brand identity and sales success. For more information, please contact Communications Specialist Krista Scarlett, 301-416-7861, Krista(at)Power-Marketing(dot)com, or visit http://www.power-marketing.com.