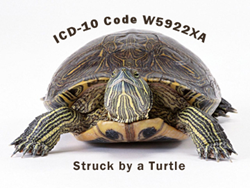 "A Sane Approach to Transitioning to ICD-10" will provide concrete ways to get ready for ICD-10
Woodbridge, NJ (PRWEB) March 26, 2014
The medical community is far from happy about ICD-10, the expansion of medical billing codes from 14,000 to 68,000 that will go live on October 1, 2014. "A Sane Approach to Transitioning to ICD-10," part of the Conventus "Advances in Practice Operation" series, will provide concrete ways to get ready for ICD-10, along with useful tips and timelines.
In addition, Conventus has dug through the thousands of new ICD-10 billing codes to find humorous and, often, downright silly examples of real ICD-10 codes. Consider, for example, code W5922XA, Struck by a Turtle. (More to be found at http://www.conventusnj.com/crazy-icd-10-billing-codes/ .)
According to a Navicure research study conducted at the end of 2013, about 75% of physician practices have not started work on transitioning to ICD-10. 27% indicated they had no plans in place to execute a transition.
"A Sane Approach to Transitioning to ICD-10," hosted by Conventus and featuring Tina Burns, CPC, CPCO, a Compliance Consultant at Source One Medical Management is scheduled for April 9, 2014, noon-1:00 PM EST. Pre-registration is required for a limited number of spaces at http://www.conventusnj.com/webinar-registrations/. The online session will provide:
•Steps for preparing for ICD-10
•Examples of ICD-0 versus ICD-10 coding scenarios
•What to expect when ICD-10 goes live
•Useful tips and timelines for getting ready
About ICD-10
ICD-10 looks to provide payers and health data analysts with more details about patient diagnosis and the procedures applied by healthcare providers. The transition from ICD-9, already delayed by a year, is expected to "go live" on October 1, 2014. Preparing for the transition not only involves learning new codes and upgrading electronic billing systems, but getting ready for expected payment delays resulting from both practice and payer issues.
About Conventus
Conventus offers medical liability insurance to New Jersey's leading practices. Unlike most firms offering professional medical liability insurance in the state, Conventus is owned and fully governed by its membership of medical practices and physicians. In addition to at-cost coverage, Conventus supports members with a full range of professional claims management, patient safety, and information services that allow them to spend less energy managing risk and more practicing good medicine.
Conventus (http://www.conventusnj.com) is rated A' (A Prime) unsurpassed by Demotech, a national insurance rating firm.