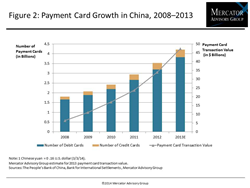 With this transition, Chinese consumers have increasingly moved away from using cash in favor of electronic payment alternatives like debit and credit cards and more recently mobile payments
Boston, MA (PRWEB) March 25, 2014
Given that China is the country with the world's largest population (approximately 1.35 billion in 2013), the international payment industry has anxiously waited for an opportunity to tap into the massive market potential that China holds. When the Chinese electronic payment market becomes truly open to international competition, international payment players are likely to find a relatively mature payments market, given the domestic Chinese market's current development trajectory.
Chinese consumers still rely heavily on the use of cash for many of their day-to-day transactions. Even China's fast-growing e-commerce space relies on cash-on-delivery services. However, in recent years, the disparity between cash use versus electronic payment card use in China has declined as Chinese consumers have become more comfortable using debit and credit cards and government policies have encouraged the growth of noncash payments like mobile payments.
Mercator Advisory Group's latest Research Note, Chinese Electronic Payment Market Update, provides context needed to understand the fast-growing Chinese electronic payment market with updated information on payment cards, card acceptance, and mobile payments. In addition, this research highlights current market trends, regulatory developments, and key players.
"Although the days of consistent annual double-digit economic growth are likely behind China, the country remains one of the fastest-growing economies in the world, with local authorities targeting 7.5% growth in 2014 alone. As the country has developed, hundreds of millions of Chinese consumers have moved from rural areas to urban settings and have made the transition from low income to middle income. With this transition, Chinese consumers have increasingly moved away from using cash in favor of electronic payment alternatives like debit and credit cards and more recently mobile payments," comments Tristan Hugo-Webb, Associate Director, International Advisory Service at Mercator Advisory Group and the primary author of the Note.
Highlights of the Research Note include:

Overview of China's payment card, card acceptance, online and mobile payment landscape
Examination of recent regulatory announcements in China and their potential impact on the Chinese electronic payment market's development
Insight into market concerns that could slow down or even reverse growth in different electronic payment segments in China.
This Research Note contains 11 pages and 4 exhibits.
Companies mentioned in this Research Note include: Citigroup, Visa, MasterCard, EPayLinks, China UnionPay, China Mobile, Alipay, Alibaba, Tencent.
Members of Mercator Advisory Group's International Advisory Service have access to these reports as well as the upcoming research for the year ahead, presentations, analyst access, and other membership benefits.
For more information and media inquiries, please call Mercator Advisory Group's main line: (781) 419-1700.
For free industry news, opinions, research, company information and more visit us at http://www.PaymentsJournal.com.
Follow us on Twitter @ http://twitter.com/MercatorAdvisor.
About Mercator Advisory Group
Mercator Advisory Group is the leading independent research and advisory services firm exclusively focused on the payments and banking industries. We deliver pragmatic and timely research and advice designed to help our clients uncover the most lucrative opportunities to maximize revenue growth and contain costs. Our clients range from the world's largest payment issuers, acquirers, processors, merchants and associations to leading technology providers and investors. Mercator Advisory Group is also the publisher of the online payments and banking news and information portal PaymentsJournal.com.