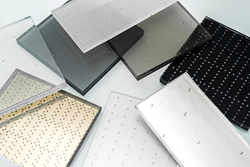 We undertook an artisanal approach to develop this line and the outcome is a perfect fit with our culture of merging aesthetics, innovation, value, and style. - Edward Geyman, CEO
New York, NY (PRWEB) April 01, 2014
CARVART, a leading creative solutions company specializing in turnkey architectural glass products, is pleased to announce the launch of its most spectacular product to date: Crystal, a sparkling collection created with precision-cut crystal legend Swarovski.
A first-of-its kind, CARVART is the only architectural glass company to embed Swarovski crystal into its product, bejeweling a laminated glass interlayer with Swarovski's famous product. Available in CARVART's beautifully simple core palette (pure, warm and cool) in three patterns, CARVART Crystal will excite designers with an expanded offering of hues, crystal shapes and views.
"Swarovski's product offering allows designers to fully express their creative spark on feature walls and partitions, furniture tops, or anywhere inspiration strikes," said CARVART chief executive officer Edward Geyman. "We undertook an artisanal approach to develop this line and the outcome is a perfect fit with our culture of merging aesthetics, innovation, value, and style."
Any way you look at it, sparkle is standard with Crystal, but custom collaborations of color, transparency and pattern are endless and highly encouraged, as CARVART remains a master of hands-on creative partnership dedicated to seamlessly bringing designers' visions to life with turnkey project planning, manufacturing and installation.
To learn more about, CARVART Crystal, visit: carvart.com/products/glass/crystal.
Heritage and tradition blended with creativity and innovation. Old world craftsmanship combined with new world cutting-edge execution. This is CARVART.
Led by Edward Geyman, CARVART has evolved from a thriving mom-and-pop operation started over 20 years ago by father Anatoly Geyman out of a Brooklyn factory, into a global architectural glass company. Today CARVART delivers solutions to a growing clientele of Fortune 500 companies in the automotive, entertainment, financial, hospitality, and luxury goods sectors across the United States, Europe, Middle East, South America, Asia, and Japan. Throughout this transformation one thing has remained unchanged – the Geyman touch – an unwavering commitment to providing expertise and personal enthusiasm for creative expression on every project.
Contact information
Joshua Fred Tanaka
F5 Agency
1 (323) 246-7468
tanaka(at)f5agencyllc(dot)com