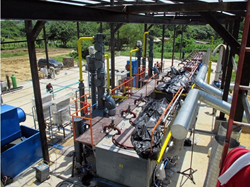 Rostov-on-Don, Russia (PRWEB) March 26, 2014
Technokomplex sets up a special price policy for the countries of South America, Africa and Asia, according to which the pyrolysis plants cost starts from 38 300 Euro.
According to statistics from the past three years, the given regions have a strong demand in such pyrolysis systems, even despite the geographical distance from Russia.
Taking into account the economic and environmental situations in the regions, Technokomplex has made a decision to amend its agreements and include the discounted price, which makes the pyrolysis equipment more accessible. Other changes mostly touch upon the structural features, responsible for the equipment adjustment to operation in hot climate.
Besides the pyrolysis machinery itself, the discounted price is relevant to the auxiliary equipment - the KVARK-500 Drum Furnace for sorbent and active coal production and the UGLAS-800 Gas Generator for electricity production.
Therefore practically the entire range of the Technokompex equipment is going to be supplied to the countries of South America, Arica and Asia on easy terms. Hopefully, this will help to expand the market for recycling and utilization and will have a positive impact on environmental condition of these countries.
About:
Technokomplex, a small-scale pyrolysis plant manufacturer and supplier, presents pyrolysis machine and auxiliary equipment for processing the products like pyrolysis carbon and liquid fuel into commercial fractions. The company has begun its business in the field of utilization in 2005 and since that time it continues to develop successfully. Today equipment manufactured by the company operates in many cities of Russia, Bulgaria, Turkey and the USA.