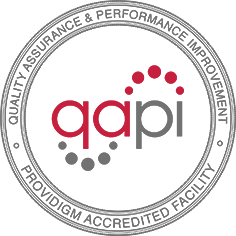 Wilsonville, Oregon (PRWEB) March 25, 2014
Sixteen Avamere Family of Companies skilled nursing facilities achieved Providigm QAPI Accreditation, which recognizes dedication to continuous improvement of quality in nursing home care. These facilities (located in Oregon, Washington, and Idaho) have met the excellence standards set forth by the program and are recognized among the top performing nursing homes and centers in the United States.
The Quality Assurance and Performance Improvement (QAPI) accreditation is based on four data-driven standards that measure the facility's use of Providigm's abaqis® system, a survey tool used to ensure compliance with federal regulation. Exceeding all four standards leads to full accreditation and provisional accreditation is given to facilities that meet three out of four. The Avamere Family of Companies currently has 16 Fully Accredited and 8 Provisionally Accredited facilities.
"To see so many of our facilities reach this standard of excellence reflects well on our mission to enhance the life of every person we serve," said Avamere President Gary Wart.
Avamere Family of Companies' commitment to Providigm's accreditation system is in line with the Centers for Medicare and Medicaid Services (CMS) to increase resident-centered care in skilled nursing facilities and to reduce preventable hospital readmissions. Several Avamere facilities were recognized in these areas earlier this year including deficiency free surveys from Avamere Rehabilitation of Junction City and Avamere Rehabilitation of Oregon City.
Providigm QAPI Full Accreditation:
Avamere at Three Fountains
Avamere Bellingham Health Care and Rehabilitation Services
Avamere Court at Keizer
Avamere Crestview of Portland
Avamere Georgian House of Lakewood
Avamere Health Services of Rogue Valley
Avamere Olympic Rehabilitation of Sequim
Avamere Rehabilitation of Eugene
Avamere Rehabilitation of Junction City
Avamere Rehabilitation of King City
Avamere Rehabilitation of Oregon City
Avamere Riverpark of Eugene
Avamere Transitional Care and Rehabilitation-Boise
Avamere Transitional Care and Rehabilitation – Queen Anne
Richmond Beach Rehabilitation
Saint Francis of Bellingham
About Providigm, LLC
Providigm creates quality improvement solutions for health care. Through Providigm's web-based systems and comprehensive training, providers are able to improve the quality of care and life of their residents. Providigm's patented abaqis® Quality Management System is the nation's leading assessment and reporting system based on CMS's Quality Indicator Survey. With its recent expansion in QAPI, Hospital Readmissions, and Customer Satisfaction, abaqis goes far beyond survey readiness. Providigm's accomplished Research Group provides the scientific foundation and cutting-edge methodology behind its quality systems.
About Avamere Family of Companies
The Avamere Family of Companies is comprised of over 40 Independent Living, Assisted Living, and Skilled Nursing facilities and four ancillary healthcare companies that provide an array of senior living and post-acute care services including inpatient and outpatient rehabilitation, home care, home health, and hospice.
# # #
For more information about this topic, or to schedule an interview, contact Drew Hanson at 971.224.2831 or DMHanson(at)avamere(dot)com