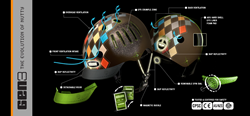 Portland, OR (PRWEB) March 26, 2014
After such a brutal winter, thoughts of a warm breeze and sunkissed skin might just make any cyclist giddy for the spring, but before rushing back in the saddle it's important to take a moment to consider a few bicycling safety tips.
Michael Morrow, founder and CEO of Nutcase Helmets, offers his safety advice to cyclists this month in recognition of Brain Injury Awareness Month.
Nutcase Bicycling Safety Tips

Wear a helmet - it's the best brain protection currently available. Finding a helmet you want to wear isn't always easy, but the latest collection from Nutcase, the Gen3 Street helmet, is designed to make wearing a helmet fun.
According to the Bicycle Helmet Safety Institute, wearing a helmet that fits properly and is Consumer Product Safety Commission (CPSC) certified could prevent up to 88 percent of cyclists' head injuries. Helmets absorb some of the energy that is generated when the helmeted part of your head hits another object, giving you a piece of protection. The chinstrap should be perfectly snug and the helmet shouldn't be able to rock in front of your eyes.
Wearing your favorite bright colors gives you visibility all day long. The selection of reflective gear out there continues to get better and more stylish all the time.
A bell can be a cyclist's best friend. Don't be afraid to signal that you're coming up on a car or to let pedestrians and other cyclists know you're there. The fun Nutcase bells even match the helmet designs!
To find your best bike route, there are a number of great aps and maps. Google maps recently added bike routes, and a quick search will give you a selection of other great resources localized to your region.
Make sure your bike is roadworthy after its winter hibernation. Check the tire pressure and brakes, and lube the chain. Most local bike shops offer affordable tune-ups if you'd rather a pro checked it out for you.
Adjust the seat and handlebars to get the right fit and make you more comfortable. Your knee should be fully extended when the pedal is all the way down, but if you feel a slight rock in your hips then your seat is too high. The handlebars should be a comfortable distance away, allowing a slight bend in the elbows. Getting the correct fit for kids is critical in the spring; you'd be surprised at how much they grow over the winter.
"Nutcase was built on the foundation of making safety fun," adds Morrow. "The back of every Nutcase helmet reads 'I love my brain' because we're constantly inspired by the amazing things people do, and want to make sure they get to keep doing them. We design helmets that people actually want to wear, by tapping into self-expression and celebrating bold personalities."
Nutcase is gearing up for this long awaited spring season with the Gen3 Street helmet, the much-anticipated third evolution of the brand's iconic street helmet for bike nuts. The Gen3 Street helmet combines all the tongue-in-cheek graphics, pop color and cool design features of previous lines, and adds a redesigned fit, clever details and smart tweaks to increase safety and comfort.
About the Gen3 Street Helmet
Extra grooves in the upper, non-visible part of the EPS insert create a crumple zone that helps disperse energy upon impact. The Gen3 helmet offers 360-degree reflectivity thanks to reflective straps, spin dial and logos on the front and back of every helmet. Each helmet also comes with a snap-in, removable visor for year round sun and rain protection on the road, the signature Nutcase anti-pinch, magnetic buckle for easy, one-handed operation and a removable spin-dial fit system for an exact, individual and comfy fit. An evolved ABS shell offers a more head-hugging, contoured fit, and the EPS insert provides improved comfort on even the warmest days with additional ventilation channels.
The 2014 Gen3 Street line includes six new graphics - Americana, Lumberjack, Trucker Orange, Daisy Dream, Atomic Boomerang and Turtle – and two new solids - Cream and Electric Olive. Each helmet also arrives in a fully redesigned box featuring a fun, pop-out cardboard origami squirrel just because.
Gen3 Street helmets including new 2014 designs are available worldwide this spring in sizes, Small (52cm – 56cm) and Medium (56cm –60cm) and Large (60cm-64cm) for Nutcase fans and lifestyle sports nuts everywhere.
About Nutcase, Inc. (http://www.nutcasehelmets.com)
Founded by Michael Morrow, a former Nike creative director, Nutcase Helmets is the original designer and innovator of the lifestyle bike, snow and water helmet. Headquartered in Portland, Oregon, the company designs, creates and sells high-quality, high-aesthetic, multi-purpose sport helmets for recreational use in snowboarding, skiing, cycling, inline skating, skateboarding and a variety of water sports. The company has more than 500 specialty retailers nationwide in the United States plus retailers in Canada, Europe, Japan, Korea, Taiwan, Australia, New Zealand, Chile and Argentina. Nutcase introduces new helmet designs every year.