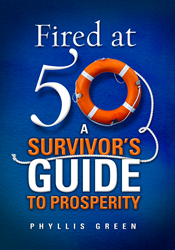 This book will serve as a useful business and personal tool for others, not only to help them survive the journey of life, but to inspire them to thrive and prosper.
Boca Raton, FL (PRWEB) March 25, 2014
When Phyllis Green's Florida advertising agency was acquired in 1999, it was a significant chapter in a career that started at a small N.J. radio station and then took her to the heights of network television, and ultimately to entrepreneurial triumph. Green, chairman of Green Advertising, VidPop Productions and Stalder/Green Advertising-- has announced the release of her inspirational and motivational autobiography, Fired at 50: A Survivor's Guide to Prosperity, a narrative that follows her career from the corporate heights of network television to its descent into the unemployment line and finally to the heights of entrepreneurial success, along the way providing significant hands-on survival tactics on how to succeed under any circumstances.
Released on March 20, 2014, the 258-page Fired at 50 tell-all, features humorous and inspirational anecdotes from her coverage of Broadway Joe Namath's Super Bowl III to her encounters with a league of the noted and legendary: Howard Cosell, Barbara Walters, David Letterman, Senator Ted Kennedy, Elizabeth Taylor plus Bill and Hillary Clinton. The book focuses on Green's career path from her on-camera and behind the scenes broadcasting jobs to the founding of a boutique advertising agency and its acquisition by the world's largest advertising agency. She shares her unique experiences and guidelines for overcoming adversity, dealing with gender-bias, focusing on the prize and, ultimately, achieving prosperity.
"My expedition to entrepreneurship and beyond proved to be the fulfillment of my destiny," says Green. "This book will serve as a useful business and personal tool for others, not only to help them survive the journey of life, but to inspire them to thrive and prosper. All individuals face events and decisions that change them forever," adds Green. "This book deals with how we handle change, the universal experience for every reader."
For more information, visit http://www.FiredAt50.com. The paperback version is available on Amazon.com at $13.95 and $8.95 on Kindle.
About Phyllis Green:
A veteran producer, network sales manager and advertising executive, Phyllis Green is hailed as an industry pioneer for bridging the gap between the worlds of retail and TV advertising. Green began her career working at a 250-watt radio station in Trenton, New Jersey. A year later, she landed a job as "Weekend Weather Girl" at WCKT-TV, Miami, now WSVN-TV. She climbed the TV career ladder with jobs at Indianapolis and Boston TV affiliates, and ultimately became the first woman sales manager at ABC-TV's flagship station in New York City. After a promotion to ABC-TV network, her star rose as she brought major retailers to TV. Misfortune struck when she was suddenly fired by Capital Cities who acquired the network–changing her world overnight. In 1986 Green merged her experience in the worlds of advertising and television by founding Green Advertising. The agency is now one of the most respected advertising agencies in the state of Florida. In 1999, Green Advertising was acquired by Pace Advertising, a WPP company. WPP is the world's largest marketing and communication services company. Today, Green serves as Chairman of Green Advertising, the parent company of GreenAd.com; Stalder/Green Advertising in Orlando, and VidPop Productions, a video production complex in Boca Raton.