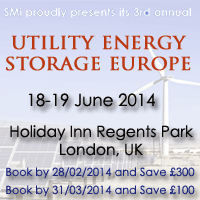 London, UK (PRWEB UK) 26 March 2014
Utility Energy Storage Europe – 2014 will provide attendees with a thorough examination of the transformation underway in technology and application developments for DES. Focusing on the latest research, pilot project updates, technological challenges and breakthroughs, and case studies from leading utility companies across Europe the conference will feature pilots and technology updates arising from the UK Department of Energy and Climate Change (DECC) Energy Storage Technology Demonstration Competition.
This informative event will bring together key leaders in the field to provide attendees with an in-depth look into the current status of distributed and grid-scale energy storage. The event will be the perfect forum for learning about new advances in the field, presenting attendees with the latest information on DES from across the globe in a fast-moving environment.
Key Speakers Include: Alessandro Fiocco (Chief Executive Officer, Terna Storage), Pallas Agterberg (Director of Strategy & Innovation, Alliander), Erik Hauptmeier (Corporate Research and Development Technologies - Power Networks and Storage, RWE Energie), Irene Fastelli (Project Manager Renewable Energy and Distributed Generation, Enel), Dr. Julian Schwenzel (Head of Department, Electrical Energy Storage, Fraunhofer IFAM), Jonathan Radcliffe (Programme Director, Energy Storage, Centre for Low Carbon Futures), John Hayling (Investment, Policy & Low Carbon Development Manager, UK Power Networks) and many more.
Interactive Full-Day Pre-Conference Workshop "Development, process, preparation and management of an energy storage pilot", hosted by Dr. Ian Whyte, Director, Potential Reactions Limited, will be taking place on the 17th of June.
For more information about this event, go to http://www.smi-online.co.uk/utilityenergystorageeu3.asp or contact Andrew Gibbons via +44 (0) 207 827 6156 or e-mail agibbons(at)smi-online(dot)co.uk