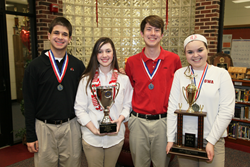 With an emphasis on writing, research, public speaking and organization; the dramatic interpretation, essay and extemporaneous speaking competitions prepare students with skills needed to be successful in any career.
(PRWEB) March 25, 2014
George Walton Academy won its first Georgia High School Association (GHSA) State Championship by taking top honors at the State Literary Competition held in Warner Robins earlier this month.This is the first State Championship for GWA since joining the GHSA in 2010. The Literary Team won a state title in 2006-2007 with a Georgia Independet School Association (GISA) championship in Class AAA. Congratulations to Jacob Weinstein who won first place in Boys' Extemporaneous Speaking and Hannah Cole who took first place in Girls' Extemporaneous Speaking. Benjamin Eady placed second in Boys' Oral Interpretation, and Maridith Grimsley placed third in Girls' Oral Interpretation. Congratulations to these students, the entire team, sponsor Mrs. Jo Taylor, and all of the advisers who made the state championship possible.