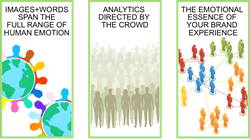 New York, NY (PRWEB) March 25, 2014
Forbes Consulting Group, the leading market research company that creates direct dialogues with consumers' emotional brains, today announced the general availability of MindSight® Experiential Discovery at the annual Advertising Research Foundation conference being held at the Marriott Marquis in New York. MindSight® Experiential Discovery is designed to help brands cement a more personal connection with their customers by listening to the preconscious emotional currents of everyday customer life experiences and shedding important light on how consumers experience brands. Forbes is offering the opportunity to demo MindSight® Experiential Discovery at booth # 507 at the conference.
MindSight® Experiential Discovery uncovers exactly how consumers feel when they use a product, how they feel after they're finished, and how they wish they could feel during and after product usage if the product were "ideal." Discovering the unique themes of an emotional experience "in the moment" helps companies craft consumer communication that has a deep emotional alignment with consumer's emotional realities – and resulting enhanced emotional message impact. This information is ultimately useful for understanding whether a company's branding, communication, and advertising are emotionally appealing to consumers, and whether communication and advertising are driving the perceptions the company seeks to create for their brand.
Through uncovering the deeper emotional elements of a customer's life experiences, companies are also more effectively able to shape their brand identity to fit with consumer realities, and are more able to vision new product development directions that are based upon "getting" the consumer's life experience, life hopes and fears.
"Understanding the emotional realities of consumer's lives is critical to building real consumer value," said Dr. David Forbes, President and CEO of Forbes Consulting Group. "With MindSight® Experiential Discovery, brands now have a tool that is fast, robust and global, giving them immediate insight into the underlying dimensions of human emotional experience."
The Power of a Crowd
MindSight® Experiential Discovery acts like a statistically validated mood board, by accessing "big data" about emotional life experiences the arise from tens of thousands of emotional image selections made by consumers in a MindSight® Experiential Discovery study. Emotional themes in this life experience data are identified using the Louvain statistical technique, which identifies "communities" of emotional images from this emotional "big data" set.
The Louvain analysis is similar to techniques used by online retailers, like Amazon, whereby the pictures most related to each other are grouped together (i.e. "people who picked ___ also picked ___"). This technique also allows for identification of consumer segments with different emotional experiences of a particular life situation.
Critical questions MindSight® Experiential Discovery can answer include:

How do consumers feel while using a product/brand? How do they feel when they are done using it?
What do "satisfaction" -- and "dissatisfaction" -- actually feel like for your product category and your brand?
How do consumers want to feel in any particular life moment? And what are the unmet emotional needs in that life situation (e.g. doing laundry; dining out) that represent new product benefit opportunities?
About Forbes Consulting Group
The Forbes Consulting Group is a strategic and innovative market research company providing global clients with deeper levels of insight about emotions and motivations - and helping them gain strategic market advantage on the strength of these insights. Throughout its history, Forbes Consulting Group has become a valued resource for Fortune 500 companies worldwide, with a focus on financial services, CPG, retail, advertising and pharmaceuticals. The FCG service portfolio combines qualitative and quantitative research, consultation and ideation. For more information, including the opportunity to receive a demo of their flagship products, MindSight® Motivational Profiling, Mindsight® Mobile or MindSight® Experiential Discovery, please contact sales(at)forbesconsulting(dot)com and follow the company on Facebook, Twitter, and LinkedIn.