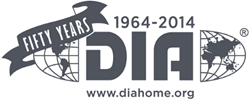 "Today's experts in biosimilars will discuss key areas of the regulatory landscape for these complex drugs, highlight areas of agreement and disagreement, and explore trends across the world—in both emerging and developed markets."
Horsham, Pa. (PRWEB) March 25, 2014
Leaders in biosimilar innovation will provide an in-depth, comparative analysis of the current global debates and trends in biosimilar regulation at the DIA 2014 50th Annual Meeting, from June 15 to 19 at the San Diego Convention Center. The "Trends in Biosimilars Regulation Within Developed and Emerging Markets" session will be held on June 19 at 10:45 a.m.
"Today's experts in biosimilars will discuss key areas of the regulatory landscape for these complex drugs, highlight areas of agreement and disagreement, and explore trends across the world—in both emerging and developed markets," said Barbara L. Kunz, DIA global chief executive.
As domestic and international regulators have pushed to create guidance for this new drug market, U.S. pharmaceutical manufacturers, legislators and those working in the drug development arena continue to debate how to regulate biosimilars.
Chaired by Dr. Andrew Robertson, director of global regulatory policy at Merck & Co., Inc., the session will feature a presentation by Dr. Sonica Sachdeva Batra, director of clinical development at Dr. Reddy's Laboratories, on regional trends in biosimilar regulation in the Asia Pacific region. Dr. Richard Dolinar, chairman of the Alliance for Safe Biologic Medicines, will give a presentation on the naming standards for biosimilar medicine.
ABOUT DIA: DIA is the global connector in the life sciences product development process. Our association of more than 18,000 members builds productive relationships by bringing together regulators, innovators and influencers to exchange knowledge and collaborate in an impartial setting. DIA's network creates unparalleled opportunities for the exchange of knowledge and has the interdisciplinary experience to prepare for future developments.
The dedicated efforts of DIA staff, members and speakers enable DIA to provide a comprehensive catalogue of conferences, workshops, training courses, scientific publications and educational materials. DIA is a global community representing thousands of stakeholders working together to bring safe and effective products to patients.
DIA is an independent, nonprofit organization headquartered in Washington, D.C., USA with regional offices covering North and South America (Horsham, Pennsylvania, USA); Europe, North Africa and the Middle East (Basel, Switzerland); and Japan (Tokyo), India (Mumbai) and China (Beijing).
For more information, visit http://www.diahome.org or call DIA's Global Headquarters at 1-202-601-8902.