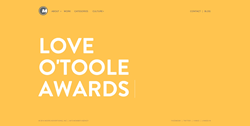 Kansas City, MO (PRWEB) March 27, 2014
Meers Advertising was recognized as one of the finalists for the American Association of Advertising Agencies (4A's) O'Toole Award for Media Excellence. Finalists were announced this week at the 4A's annual conference, Transformation: The Idea Effect in Los Angeles, CA.
Meers earned the honor by demonstrating media excellence through innovation, transformation and creativity for their work. The agency was one of three finalists nationally in the Small Agency category.
"Staying focused on consumer response and engagement across all channels allows for innovative strategy, fluidity of tactics and reinforces accountability to our clients," said Allisyn Wheeler, Vice President of Channel Strategy at Meers.
"Our Channel team consistently looks for new and innovative ways to connect our clients' brands with the consumers," said Sam Meers, President and CEO of Meers. "It is this kind of effort that makes me proud to work with such amazing, smart and determined people at Meers."
Since it began in 1991, the O'Toole Awards is one of the most prestigious awards in advertising. The Media Excellence O'Toole award is given to agencies across the country that demonstrate the highest level of excellence of media planning and/or buying functions for an agency's comprehensive body of work over the course of a year.
For more information, visit http://bit.ly/1dsiIKR.
About Meers
Meers is a digital marketing and advertising agency headquartered in Kansas City, Missouri. The agency works to advance their clients' business by helping them solve marketing challenges through relevant, engaging and compelling communications. Meers is a member of the American Association of Advertising Agencies (4As). The agency was identified as the fastest growing Kansas City private company in 2013 by Inc. Magazine's "Inc. 5000," and has been recognized as one of the Top Ten finalists for the Greater Kansas City Chamber of Commerce Small Business of the Year two years in a row. (http://www.meers.com).