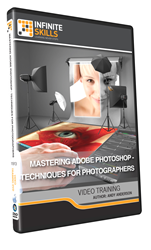 Learn Mastering Adobe Photoshop - Techniques for Photographers at your own speed
(PRWEB) March 25, 2014
Software training firm Infinite Skills Inc. last week introduced its "Adobe Photoshop CC For Photographers Tutorial," an advanced course covering Photoshop's tools and features for producing professional quality digital photographs.
Adobe Photoshop CC is the current, cloud-based, version of Adobe's high-powered photo, graphics, and image editing software. Equipped with powerful tools for editing, enhancing, and adjusting images, Photoshop has been the keystone tool in the transition of photographic practices to digital formats.
Infinite Skills' Adobe Photoshop CC For Photographers provides a guide for photographers of every level with some basic knowledge of Photoshop to begin mastering these advanced capabilities for image production.
Adobe Photoshop CC For Photographers Video Training - Streaming
Course author Andy Anderson is a veteran trainer at Infinite Skills. An expert in the Adobe creative line of software, he is a career photographer, professor, and graphic designer, with decades of commercial and artistic publications to his credit. He has authored 17 best-selling books on graphics and design. His training focuses on the Adobe creative suite and other common systems like Apple's OS X and Microsoft Word.
After introducing the course and, "setting the ground rules," for using Photoshop as a photographer, Anderson starts by teaching critical organizational skills using the companion program, Adobe Bridge.
Anderson continues with an overview of the image life-cycle, providing lessons on all the critical stages, from calibrating your monitor and standardizing color management, to working with image interpolation and setting performance settings.
The course then shifts focus to Photoshop's palette of editing tools as Anderson starts with common techniques such as cropping and resizing, and moves on to more advanced topics such as noise reduction, using effects such as healing brushes, adjusting levels, correcting color problems, and much more.
"Adobe Photoshop literally changed the world of photography," Anderson says.
"This course is designed to equip photographers with all the knowledge necessary to start creating professional-level images using Photoshop's cutting edge tools."
Free demo videos and a full list of course contents can be found on the Adobe Photoshop CC For Photographers training page of the Infinite Skills website: http://www.infiniteskills.com/training/mastering-adobe-photoshop-techniques-for-photographers.html.
Infinite Skills offers its Adobe Photoshop CC For Photographers Tutorial either as a DVD or a direct download from the company website at a retail price of $99.95. All titles and formats are compatible with Mac and Windows operating systems. Shipping is available around the globe. Additionally, Infinite Skills tutorials are supported by project files which correspond to examples in the videos, allowing users to work alongside experienced instructors right on their computer or iPad.
About Infinite Skills Inc.
A leader in the field of software training, Infinite Skills designs its courses on a task-oriented model, teaching complex skills by providing hands-on examples and guiding users as they carry out essential functions. Infinite Skills offers a wide range of software titles available as DVDs, digital downloads, and in iPad editions. Infinite Skills now offers a subscription service, providing access to all its training content for a monthly fee, keeping with company's aim of delivering professional training to customers anywhere they want to learn.